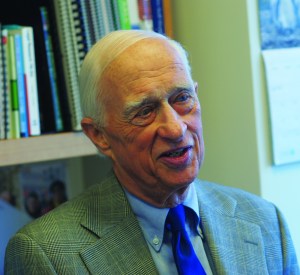 James C. Goodale, the so-called "father of reporters' privilege" and the author of a new book called Fighting for the Press (CUNY Journalism Press, 255 pp., $20), was in his office at the Debevoise & Plimpton law firm, where he's a partner, comparing Barack Obama to Richard M. Nixon.
"Nixon and Agnew were like listening to a Fox News program all day long, every day," he said. "In their eyes, the Eastern establishment press were against them and they were against it and they were going to destroy it as best they can." But, he said, "Obama has all these things that he's done to the press on national security matters that Nixon never did."
Mr. Goodale, 79, was the general counsel of The New York Times during the 1971 Pentagon Papers case, when President Nixon ordered the old grey lady to cease publication of excerpts from a 7,000-page document, which detailed America's involvement in Vietnam over the course of three decades. The Times published the first excerpt on June 13, 1971. By June 26, the case had reached the Supreme Court. Over the course of a few days, the justices ruled in a 6-3 decision that the U.S. government could not censor the Times. Nixon then convened a grand jury to indict the Times for conspiracy to violate the Espionage Act—"which really doesn't mean anything," Mr. Goodale said, rubbing his forehead in distress—but the case quickly fell apart. Fighting for the Press reads like a political thriller, with Nixon providing some dark comic relief. The guy was not exactly subtle: "As far as the Times is concerned," he said to John Mitchell, the U.S. Attorney General, "hell they're our enemies."
Now, the man who successfully fought Nixon says President Obama has an even more troubling record. He has indicted six leakers to Nixon's one, and just this week came word that federal investigators had seized two months of AP phone records without notice. Mr. Goodale believes that a grand jury has secretly indicted Julian Assange, the founder of Wikileaks and the publisher of the Afghan War Logs, one of the more substantial leaks since the Pentagon Papers. The father of reporter's privilege is doing everything in his power to make sure the case does not go forward.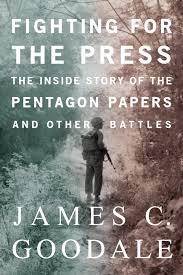 "We're going in a circle," Mr. Goodale said. "When I talk to journalists about Assange—Jesus. They really don't like him. They say, 'He's not one of us. We don't care what happens to him.' So I'm saying, 'Wake up!' If the government goes after him and gets him, that's bad for everybody down the line. I'm way out on a limb in this book because it's three years after the grand jury was convened and it hasn't done anything. But I am quite confident the grand jury is alive. And I am confident that it has indicted Assange in secret. In any event, until the government tells us it's gone away, I feel like we have to speak out against it. This will set a standard. And I can't seem to get through."
The life of a First Amendment lawyer, and a general ally to journalists, is far different now than it was in 1971, when Mr. Goodale was still a young man. He's very much a holdover from a different era. For one thing, the days are long gone when a person simply read one reputable morning newspaper and then went on with the rest of their day. The proliferation of writing on the Internet has both increased the amount of libel that is published and desensitized the public to it, Mr. Goodale says.
"Privacy was something that everyone worried about, that they thought would blow up in their face," he said. "We have a generational change with respect to privacy. The new generation really doesn't value privacy in the same way as the preceding generation. There was no Paris Hilton in the print days. Can you imagine The Observer printing a picture of Paris Hilton fornicating?"
(No comment here from the Transom, other than to say that Mr. Goodale raised his eyebrows in utter disbelief.)
When he represented the Times, the paper of record was in danger of going bankrupt. He helped found The New York Observer, offering a cautionary voice about its economic viability. He was George Plimpton's personal attorney when The Paris Review, by his account, "was four people around a desk in a basement that was dank and mushrooms were growing in it."
It was a decidedly fancier scene when the Review threw Mr. Goodale a party at their new offices in Chelsea last Wednesday. Lorin Stein, the Review's editor, praised Mr. Goodale's "irascible eye." Mr. Goodale offered a firsthand glimpse at it
"I wanted to reach a conclusion that would inform President Obama with respect to his actions on the relationship of national security to the press," he told the room, a mix of old lawyers and young writers. "He's not been very good on it. But the idea was the national security claims do not hold up in the long run and the First Amendment protects journalists." He paused. "So don't get involved in that mess!"
mmiller@observer.com