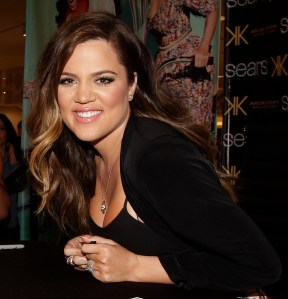 It looks like Gov. Andrew Cuomo caught up with the Kardashians.
The high-end clothing line run by Khloe Kardashian and her husband, NBA star Lamar Odom, has pulled a designer t-shirt from its website after the state threatened to sue them for copyright infringement.
The shirt, which had been available on the Rich Soil Clothing website, featured a design that looked "suspiciously like a state logo," according to the Daily News, which first reported the fashion faux-pas.
According to a photo published by the paper, the shirt featured a logo with a picture of the Statue of Liberty, surrounded by the words "Rich Soil" and "New York."  The State Department of Agriculture's logo, which designates food grown in the state, features a near-identical image, encircled by the slogan "Pride of New York."
"The State of New York has invested substantial time, effort and resources creating the respect and goodwill associated with the trademark," a department lawyer wrote in a letter to the company Friday, according to the paper. If demanded the company immediately halt sales–or risk legal action, the paper said.
At a press conference in Albany Monday, Mr. Cuomo played coy about the face-off with the infamous family when asked to comment.
"I wish I could in some ways," he told reporters. "It would at least be a little more interesting than what I normally do … My understanding was that was basically sent out as a copyright infringement letter on a sort of pro forma monitoring basis."
State Agriculture Commissioner Darrel Aubertine seemed caught off-guard when he was then asked whether having Ms. Kardashian wear the logo would give it a boost.
"I'm not sure. I think the 'Pride of New York' is a good logo," he said before Cuomo interjected.
"You think these jobs are easy?" he joked.
Ms. Kardashian and her husband did not respond to tweets seeking comment, and their clothing company did not respond to an e-mail about the shirt.
State officials said they had not received a response from the company as of Monday afternoon.