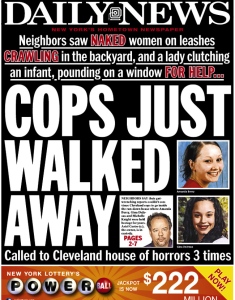 Today is layoff day at The Daily News, reports Capital NY, who put the number at around 15–columnists Albor Ruiz and Joanna Molloy and reporters Christiana Boyle and Robert Gearty among them.
Rumors have been circulating for some time that a round of pink slips was imminent at the News. Although this is the most significant number of layoffs since editor in chief Colin Myler took over in November 2011, there has been a slow trickle of departures over the past months. Features editor John Oswald left in March, and features reporter Jacob Osterhout vented his rage in a goodbye email after he was let go earlier this spring. 
According to Capital, staffers were told that the reduction is a result of a "restructuring" at the paper, in which they are increasingly trying to focus on digital. And, as everyone knows, "restructuring" is never a good sign for longtime staffers.
Meanwhile, perhaps a sign of the restructuring can be seen on the features desk, which has seemingly been on a hiring spree since the News moved back to Manhattan in February following a prolonged period at its New Jersey printing plant, where it set up operations after its headquarters were damaged by Hurricane Sandy. Raakhee Mirchandani replaced Mr. Oswald as features editor in March. And as we reported last week, Lachlan Cartwright returned to New York, where he joined section editor Mariane Garvey, Brian Niemietz and News features writer Molly Friedman on the revamped gossip page Confident@l. Features writer Sheila McClear and TV editor Don Kaplan also came aboard this spring.