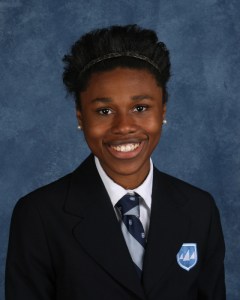 When Léman Manhattan Preparatory, located in the Financial District, sent 17-year-old Mikayla Barnett to China last year for her first trip outside of the U.S., the honor roll student felt that the country had lost touch with its culinary roots, allowing Westerners far too much influence over their food options.
"There were American fast food chains on every corner and few healthy local options," she said. "It looked exactly like New York. Chinese tradition has become neglected."
Ms. Barnett won't stop at China, though, if her plans hold promise.
"I'd like to establish restaurants around the world that are focused on exploring healthy options while maintaining the traditions of their countries," she said.
An especially bright star in the prestigious Léman Prep's first graduating class, Ms. Barnett is bringing an impressive track record with her to the University of Pennsylvania's Wharton School this fall, where she plans to study business and economics while exploring the societal impact of the global food industry.
Ms. Barnett is not the only Léman Prep kid headed for the big time. "With our first class graduating on June 1, Léman Manhattan is celebrating a significant milestone," gushed Drew Alexander, Léman Manhattan's Head of School. He cited the school's ethic of volunteering and inclusiveness and stated, "We're proud of our seniors and look forward to their future successes as they head to top universities including Duke, Johns Hopkins University, Boston University, American, and Tulane."
Still, it is senior class president Ms. Barnett who is making her presence felt, and her culinary ideas are reflected here in the city. Her favorite food is the Sushi Sandwich from vegan restaurant 'sNice in Soho. "It has tofu, nori and pickled ginger all up in a wrap," she said, adding that she might include something like it in her China-based health food restaurants.
As president, Ms. Barnett, who grew up in Park Slope, took the student government from a four-person operation to a 19-person
committee, penning the school's very first constitution along the way. A clear role model—and member of the Model U.N.—she knows how important it is to pave a bright road for her underclassmen.
"I'll miss walking around every single day and seeing how I'm making an impact with the little kids, who are always looking up to me," she said.
While she'll miss them all, she's more than ready for college life, explaining, "There's a time in senior year when you want a new group of friends to bring a spark back into your social life."
Right now, that consists of jogging across the bridge from Brooklyn to Manhattan on weekends, and having tea in "little cafes" with friends.
"I'm not a partier," Ms. Barnett explained. "I'm not your average high schooler."
Agreed.