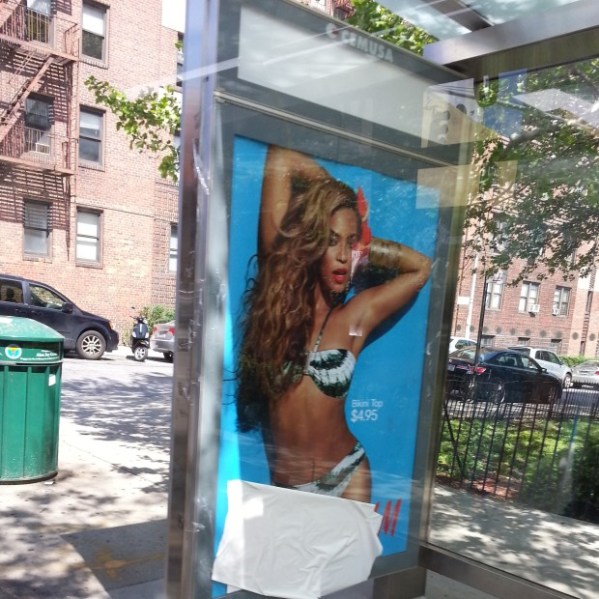 They ain't ready for this jelly.
Beyonce's bootylicious new H&M ads have been turning heads all over the city (like, seriously—is that body post-Blue Ivy?! Oh cruel, cruel world.)  But while we'll take any chance we can get to see the Queen Bee's bod, in the Lower East Side, residents have decided to add a coverup to her skimpy outfit.
If you haven't seen the ad, it features Queen Bey in a green and white  swimsuit, and is located at the M14A bus stop at Grand and Columbia Street—right in the heart of a historically Jewish neighborhood.
"Every day someone tapes a cover over it, now it is opaque sheeting and every day people rip it down," an anonymous tipster told Bowery Boogie.
"You can see what is left of yesterday as the white covering at the bottom of the ad."
We've reached out to the MTA and H&M for comment and will update once we hear back.
The tipster goes on to point out that so-called "Modesty Wars" are common on the other side of the East River in Williamsburg, but not so common in the LES.
As far as we're concerned, if you don't like it, you don't necessarily have to put a sheet on it.