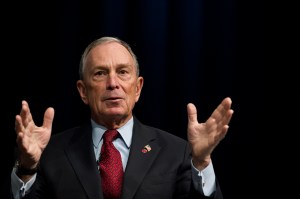 Letters containing a substance that tested positive for ricin have been sent to both Mayor Michael Bloomberg and the head of his gun control advocacy organization, the New York Police Department announced this evening.
"Anonymous threats to Mayor Michael R. Bloomberg in letters opened in New York City on Friday and by the director of the Mayors Against Illegal Guns in Washington, DC on Sunday contained material that when tested locally, preliminarily indicated the presence of ricin," NYPD Deputy Commissioner Paul Browne told Politicker in a statement. "Tests on the letter opened in New York also preliminarily indicated the presence of ricin in testing today at the National Bioforensic Analysis Center in Maryland."
According to Mr. Browne, the writer in both letters "threatened Mayor Bloomberg, with references to the debate on gun laws."
The FBI's Joint Terrorism Task Force and the NYPD Intelligence Division–responsible for the Mayor's protection–are further investigating the threats, he said.
Ricin, a highly toxic substance, can be fatal if swallowed or inhaled.