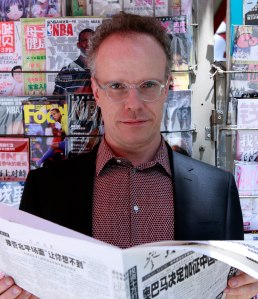 At 8 a.m. two Sundays ago, Hans-Ulrich Obrist was at his midtown hotel, pouring packs of orange powder into a glass of water. He was casually immaculate in a checkered blue suit with a pressed white shirt. Mr. Obrist, co-director of London's Serpentine Gallery, was in New York for the Frieze Art Fair; the release of his book Do It: A Compendium, published by Independent Curators International; the opening of Expo 1, the ecologically-themed exhibition he helped organize at the Museum of Modern Art and its sister museum MoMA PS1; and a few dozen gallery shows, studio visits, meetings and parties.
"I stopped coffee," Mr. Obrist said. He was speaking with the speed of an over-caffeinated teenager, his arms jittery and cutting the air for emphasis. He sleeps four or five hours a night. He wanted to meet at 7 a.m. I told him I didn't think that was possible. Even this early, I was guzzling a succession of cups of black coffee to jolt myself into something resembling consciousness. Mr. Obrist gets by on "the excitement and the curiosity. And I drink a lot of green tea, a lot of things for the immune system–vitamins and stuff. Because I travel a lot and I always get these colds."
"No coffee," he added, as if he might really miss it.
Art fair culture has come to define the globalization of contemporary art. After Frieze comes Art Basel Hong Kong, then the Venice Biennale, then Art Basel, in Switzerland. Mr. Obrist, who has curated hundreds of exhibitions and is a friend of artists (his ongoing interview project, which he has occasionally done in 24-hour spurts, has amassed thousands of hours of tape) is seemingly omnipresent at these events.
During a fair, the art world's social curiosities are magnified. A day becomes a race to see how much you can fit in. Why not try to make it to the dessert course of that third gallery dinner, just to show your face? It's a game to see who can shake the most hands. But for a curator like Mr. Obrist, who prides himself on knowing everyone and everything, it's also invaluable research. Over the course of a single cigarette, I once witnessed him roll up to an art fair in a car, run inside, come back out murmuring to his companion about what impressed him, then get back in the car and head to the next event, like some kind of highbrow European Roadrunner. In an overly hormonal art world, where every opening and after-party signifies some kind of opportunity, Mr. Obrist's pace alone has become nothing short of legendary.
"I think the art fair is very much a form of urbanism," Mr. Obrist said. "I think something really happens to the cities when such a fair happens. The city becomes an exhibition, it's amazing."
He grew up in Zurich, "addicted" to the Giacometti sculptures in the Kunsthalles. At 16, he was already hanging around artists. At 17, he visited Eric Fischli and David Weiss, the Swiss duo, while they were working on their iconic film The Way Things Go, a carefully calibrated series of chain reactions. That visit set off its own series of chain reactions–he'd travel around Europe seeing gallery and museum shows. ("Trains were my living room," he said.) He visited Gerhard Richter in Cologne. On a school trip to Paris, he snuck away to see Christian Boltanski. He did the same in Rome and visited Alighiero Boetti. The older artists were amused by his ambition and vast knowledge. He wanted to "listen to artists' ideas and try to make them happen."
"Boetti took me to his astrologer and drove me to meet his artist friends," Mr. Obrist said. "He said how bored he was to be an artist because he's always asked to do the same thing. And he told me you can't become a curator who's boring. This was like a short cut of 20 years. I believed one could not just do routine exhibitions. Boetti also said, 'Oh you're so slow, you need to get faster.'"
It was now 9 a.m. and Mr. Obrist was off to a studio visit with a private artist he wouldn't name who works in secret and didn't want anyone to know she was in town. So, an hour break, and then meet at Cafe Select in Soho, where he would discuss details of 89Plus, an open call collaboration he runs with Simon Castets that focuses on new digital media. I finished my fifth cup of coffee and was so awake I walked all the way from midtown.
It happens to have been at the Café Select in Paris, 20 years ago, that Mr. Obrist came up with Do It. Many of his ideas have emerged out of conversations with others. It was also at a cafe in London that he founded the "Brutally Early Club," a salon-style discussion that meets at 6:30 a.m. And through a discussion with Fischli-Weiss, he designed his famous "Kitchen Show," a group exhibition curated in Mr. Obrist's unused kitchen. ("I never cook and I never actually made a coffee in my life," he said.) The idea for Do It, conceived with Christian Boltanski and Bertrand Lavier, was to ask artists to come up with sets of instructions that could be carried out by other artists.
Today, he was running 15 minutes late for his meeting with Mr. Castets and the young artist Brad Troemel, co-founder of the Tumblr-based art project Jogging. He recently coined the term "aesthlete," which is as good a summation as any of new media art: "a cultural producer who trumps craft and contemplative brooding with immediacy and rapid production."
"Anything I write is a kind of artist statement, indirectly," Mr. Troemel said after Mr. Obrist had hurried in and took a seat. Mr. Troemel was explaining his practice of making fairly useless objects (three donuts balanced between a wooden plank, a watermelon with a handle) and selling them on Etsy, the arts and crafts ecommerce site. Mr. Obrist was frantically scrawling notes on scraps of paper. He explained that he tried to order Mr. Troemel's book, Peer Pressure: Essays on the Internet by an Artist on the Internet, on Amazon, but purchased a book instead by a different Brad Troemel, which he has added to his shelf at home that is dedicated to the wrong books by homonym authors (like by Robin Day, the TV moderator and not the designer and so forth; Mr. Obrist fancies this a kind of evolving group show).
"We need to go," Mr. Obrist said to Mr. Castets.
"We haven't even gotten our order yet," Mr. Castets said.
"Well, we have to get it and get out of here."
Mr. Obrist asked if there were earlier writings by Mr. Troemel that he could look at. By this time, Mr. Troemel had been served his bowl of granola, and, like a well-mannered child, was careful to chew thoroughly and swallow before talking. I could nearly sense Mr. Obrist wincing in these seconds-long interims. The artist mentioned his essay on Dual Sites, the idea of online forums displacing physical gallery spaces and that "our appreciation of a resume is largely made up of recognizing accomplishments that we did not attend."
"My most famous show is the 'Kitchen Show,'" Mr. Obrist said. "More famous than any gallery show or museum show I curated. And it lasted for three months and had 19 visitors, and it was a rumor. So your idea of Dual Sites–it's totally new because of the Internet, but it's always existed. The most famous Marina Abramovic performances were attended by six people and then became a global rumor."
He asked for the check. (Two more cups of coffee on my part.) "We've only got about 20 minutes for the next meeting," he said.
A car was waiting for us outside and we raced around the corner to meet with three of the editors of the online DIS Magazine. "We are very late," Mr. Obrist said. "O-M-G we are very late!"
The DIS office was sleepy, aside from the music blasting through the room. Mr. Obrist rapidly finalized some details about an 89Plus project and asked them how the coffee table book they were working on was going. ("Slowly," each of them said.) Quite significantly, Mr. Obrist took the opportunity to visit the restroom before the next meeting.
"We're supposed to be at Socrates Sculpture Park at noon," he said, a little distressed, outside the DIS offices. "I don't think that's going to work." To no one in particular, he added, "We have to keep to the schedule." There was a brunch hosted by Gavin Brown for Rirkrit Tiravanija, in addition to Socrates, where instructions from Do It were posted for visitors to perform. There was also the Christian Holstad show at Andrew Kreps Gallery, in Chelsea. It was approaching noon, and he needed to be at PS1 for a 12:30 meeting with the museum's director, Klaus Biesenbach. Mr. Tiravanija, Lawrence Weiner and Clifford Owens, among other artists, would be there for talks and performances. Immediately afterward, Mr. Obrist and Mr. Biesenbach were to interview Yoko Ono.
He would skip the sculpture park.