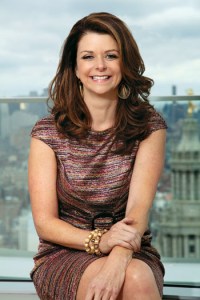 Even though Forest City Ratner made sure to tout the groundbreaking of the first housing tower at Atlantic Yards late last fall, few would have described the developer's approach towards housing, particularly affordable housing, as passionate. Forest City Ratner itself has made no secret of the fact that its focus was on the arena, the linchpin of the development site and the first and only building to be completed up to this point.
Apparently, though, newly appointed president and CEO MaryAnne Gilmartin is now thrilled about affordable housing. As she told a crowd of urban planning gurus, developers and real estate powerbrokers at a CURE. (Center for Urban Real Estate) dinner at Columbia University Wednesday night, while all of the positive feedback on the arena had been nice, "it is the housing component that will truly revolutionize the project."
Ms. Gilmartin raved about the Forest City Ratner's decision to go with modular, conflating the cost-saving measure with much higher-minded ideals than cheapness. It was about innovation, Ms. Gilmartin said, and the developer's commitment to affordable housing—the much-delayed component that helped Forest City sell the controversial project to political leaders and community groups. (While the first tower, at 32 stories, will be the world's tallest pre-fab building, there was likely more afoot than trailblazing in the developer's decision to go with modular, which promises cost savings and speed for a project that has been plagued by delays and financial woes.)
After speaking about the undeniable influence of Robert Moses, Ms. Gilmartin also expressed her admiration for Jane Jacobs, praising her focus on mixed-use development and declaring that: "It may surprise some given my developer DNA, that I identify more with Jane Jacobs than Robert Moses."
The developer ended her presentation by boasting about her decision to move from Westchester to a $3.85 million Brooklyn brownstone with her three children, three dogs, a bird and a fish—earning applause from the evening's very supportive audience.
But then, Ms. Gilmartin was not the only one to extoll the altruism and selflessness of real estate developers. CURE. director and SHoP partner Vishaan Chakrabarti opened the evening with rather lavish praise for those in attendance, proclaiming: "heroes, heroes, you are heroes."