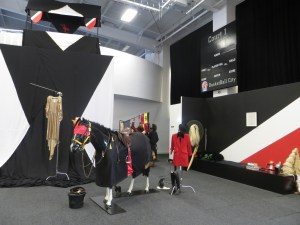 The northeastern corner of Basketball City is looking more like Camelot than a court thanks to artists Andrea Merkx and Nathan Gwynne, who collaborated on what is perhaps the most ambitious installation at the second edition of the New Art Dealers Alliance's New York fair.
"This is like a royal tournament viewing tower," said Mr. Gwynne, gesturing to a scissor lift draped in black and white cloth that nearly touched the ceiling (no small feat in the vaulted space). "We wanted to do something that felt somewhat specific to being in the context of an art fair, which is like a jousting tournament in a lot of ways. Everybody's kind of prancing around in their best outfits, and there's some competition going on. It's also bit like a horse auction, so we kind of wanted to make a bit of a joke about that."
In front of the tower stood a life-size, saddled plastic horse wearing a red blindfold. "It belongs to my studio mate [Zerek Kempf]'s grandfather who lives in Ohio," said Mr. Gwynne, who happened upon the creature by chance a few weeks ago and decided to incorporate it into the piece. The pair will be using the various props to perform and film an opera with a "rough narrative arc" and nine songs that explores the courtly love affair between Arthurian icons Sir Lancelot and Queen Gwynevere.
"Later today, I'm going to be shaving and another friend is coming to wax my chest," said Mr. Gwynne, who was still heavily bearded at press time. "I'll be fitted for this gown and this wig over here and I'll become Gwynnevere, which is also just kind of a pun and a joke on my last name, and my collaborator Merkx is going to be Lancelot, or Sir Merkx-A-Lot."
The medieval props were punctuated by the occasional, anachronistic item, like a red riding jacket being steamed next to the stallion and a stuffed black panther clutching a giant red rose. Like the horse, it also had a story. Merkx & Gwynne got it from their friend Elizabeth Jaeger, who helped sew the fabric covering the scissor lift and has a sculpture on view at the nearby booth belonging to Brooklyn-based gallery 247365, but it originally belonged to Ryan McGinley. The stuffed cat lounged under a wall painted with dramatic black and red triangles divided by a white stripe that evoked heraldic flags and Russian Constructivism in equal measure.
The pair will be staging and filming their opera "sometime in the afternoon" on Saturday. Chances are, the piece won't get performed on the final day of the fair. "Sunday we'll probably all just have hangovers," said Mr. Gwynne.