I hate department stores. They remind me of being a chubby 12-year-old with braces being dragged around by her mother to try on bat-mitzvah dresses at the Macy's and Bloomingdale's located in the heart of Delaware's Christiana Mall. (We eventually decided on an electric blue sleeveless number, and suffice to say I have vowed to burn the photobook of evidence the first chance I get.)
So sartorially misinformed was I that for many years I associated most department stores with the cheap and gawdy—obviously, I reasoned, most cool clothes come from stores that sold only their own brand, places like Ann Taylor, or Hot Topic. Up until embarrassingly recently, I didn't understand what my so-called friends were driving at when they offered to take me shopping at Macy's, Nordstrom's or Bloomie's. I just flashed back to Delaware and that blue dress and assumed that they were making some sort of ironic commentary on prom season.
But a girl can't live in blissful ignorance forever, and by the time I was, oh, say, 28, I found out that, far from being tacky, New York's haute couture was synonymous with, yes, Madison Avenue designer flagships, but also: Bergdorf's, Saks Fifth Avenue and Barneys. I had never stepped into these hallowed halls of fashion. I had to take a Valium just to step into a Century 21, with its maze-like layouts, dressing room item limits and panic-inducing number of choices.
But I couldn't wear jeans and sweaters with cat faces on them forever, and no matter how well that kitschy-cute skunk hat I had purchased last summer in South Dakota went over at a recent Broadway after party, I realized that eventually I would have to make peace with the luxury department store.

To face the minotaur, I turned to one of the world's most knowledgeable sources: Terron Schaefer, the executive vice president and chief creative officer of Saks Fifth Avenue. Recognizable as the "Simon Cowell" (his words) of the design competition Fashion Star, where he plays the role of a Saks' "buyer" (their words), the impeccably dressed and terrifyingly well-mannered Mr. Schaefer has spent most of his life as a Willy Wonka of haute couture retail.
Working at the marketing division of Doyle Dane Bernbach, he was in charge of clients like Harrods (where Mohamed Al-Fayed had once suggested building an indoor roller coaster to attract boys looking for school clothes), Polaroid and Bloomingdales. After a brief respite working in Cambodia for Doctors without Borders—"I needed to get as far away from that world as humanly possible," he sighed—Mr. Schaefer landed the premiere gig at Saks, only three blocks away from his first offices at DDB.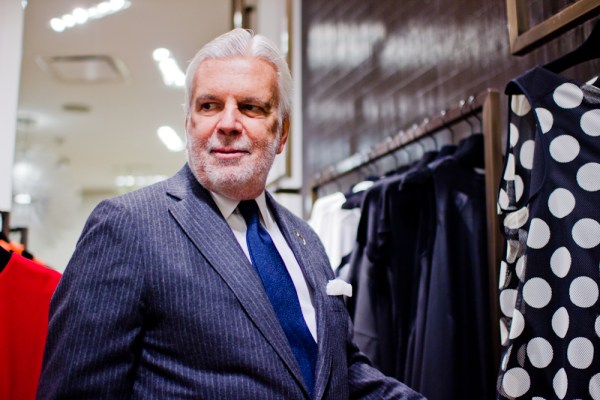 Meeting at his office across the street from Saks Fifth Avenue where, in 1923, Adam Gimbel famously began his upscale rival to Macy's, I admitted that I had never been to the store. I knew enough about the company to know I couldn't afford a bangle, let alone a whole outfit.
But this was about the experience. Walking into Saks for the first time was like going through the looking glass of a regular department store. Here—as they say in Cabaret–—everything is beeeuuuuutiful! As I stood gawking at the giant, colorful fish that swam in a window-sized tank across from Coach bags, Mr. Schaefer guided me up to the third floor: the designer floor, which is where I learned how it is that people found themselves in deep, deep credit debt.
I had always assumed that clothes were clothes, and anyone who spent more than a couple hundred dollars on an entire outfit was a sucker. But that was before I walked among the theatrical Oscar de la Renta and Alexander McQueen gowns, the lace and paisley of Erdem, the deceptively simple lines of Akris. At each, Mr. Schaefer pointed out the intricate detail and attention paid to both the clothes and the surrounding environment: in a room showcasing Japanese and Belgian advanced designers—Comme des Garcons, Junya Watanabe, Anne Demeulemeester, etc.—there was a black "aqua" table by Zaha Hadid that seemed to defy the laws of gravity; a bronzed willow tree chandelier by Michele Oka lit the hallway; the blown-up photo of a Japanese basket that was photo-transferred onto the floor design for the Ralph Rucci/Chado boutique.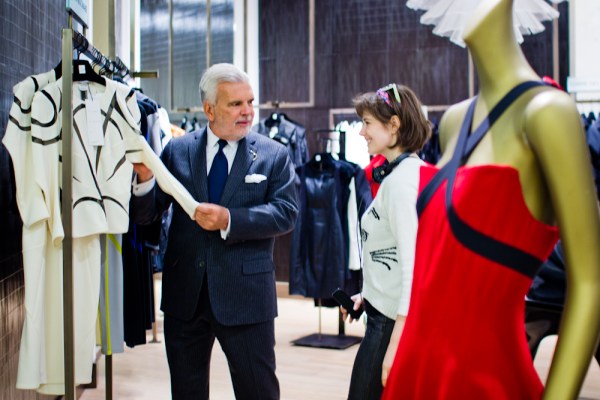 We spent three hours going through each designer. Halfway through an explanation of why a certain designer's lack of buttons was so important, I could feel myself slipping into a catatonic state of information overload. What was I doing here? I didn't know my Valentino from Versace … hell, I didn't even know if those names corresponded with real people. And the looks I did like were so completely out of my universe, money-wise, it was like being on a clothing safari.