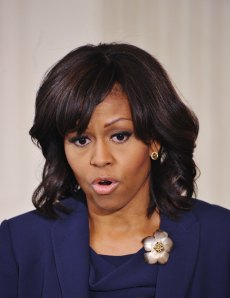 Michelle Obama was back in New York City this evening headlining two DNC fund-raisers: a small gathering at the home of fashion designer Tory Burch and an "LGBT Gala" on the Upper East Side.
Politicker was present at the second event, where an excited Ms. Obama told donors that maxing out on their contribution limits was a "baller" thing to do.
Ms. Obama, of course, was there to raise money for the upcoming midterm elections, and urged the group not to lose steam just because the election was over.
"Like I said, it matters who we send to Congress. So we need all of you to be engaged in every special election and every midterm election all across this country," she said. "We need you to keep on writin' those checks! And if you haven't maxed out, you know, what's my motto? Max out! Let's say it again: Max out! And if you've maxed out, get your friends to max out."
"It sounds kind of baller too," she added. "Maxing out! Everyone here should be maxed out!"
The remarks were made at 583 Park Ave., an elegant event space at the corner of East 63rd Street, where audience members sat under a grand, domed ceiling and chandelier around 30 tables dressed with aqua-colored tablecloths and bunches of purple and white flowers. Men were in suits, women in dresses, dining on what appeared to be some sort of steak and green beans.
The first lady was introduced by Jason Collins, the Washington Wizards center who recently came out as the nation's first openly gay major professional sports player. She emerged wearing a sleeveless black knee-length cocktail dress with a full skirt and sparkly, draped necklace– as well her signature bangs–and was welcomed with a standing ovation, cheers and cell phone photos.
"Just, just settle down!" she told the excited group.
"We've got your back!" one man yelled.
"I know you do, I know you do," she replied.
She spoke for about 20 minutes, beginning by thanking Collins and attendees. "I want to thank you for being there for Barack–not just once, but twice. Yeah!" she said.
She then touted to some of the President's accomplishments, including job growth, health care reform, work towards comprehensive immigration reform and the president's work on LGBT rights. "Because of you, we have a president who stands up for our most fundamental rights, from ending Don't Ask, Don't Tell … to supporting our right to marry the person we love," she said.
But mostly, she urged the crowd to stay engaged, despite the end of election season.
"It's easy to get frustrated and to become cynical. And now that the excitement that comes with presidential campaign has faded, it is so tempting to turn off that TV and wait another four years to re-engage. But make no mistake about it: While we are tuning out, let me tell you, other folks are tuning in," she said.
With so many people still in need of help, she said, "We can't wait for the next presidential election to get fired up and ready to go. We don't have time for that!" she said. "We must recapture that same passion, that same energy and urgency that we felt back in 2008, 2012."
Per a DNC official, the event kicked off with brief remarks by Bravo's Andy Cohen, followed by a performance by pop star Sara Bareilles who performed her hit "Love Song," a rendition of "Sitting on the Dock of the Bay" and "Brave," a song written about the struggles of coming out.
DNC Chair Debbie Wasserman Schultz also made remarks, and Reps. Carolyn Maloney and Sean Patrick Maloney were both on the audience..
Tickets for the event ranged in price from $1,250 to $32,400 per person, and approximately 350 people attended, a Democratic Party official said.