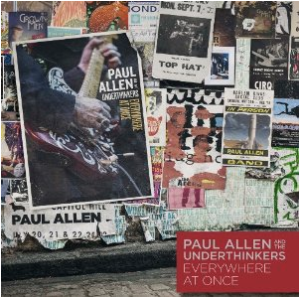 Paul Allen may be the undersung Microsoft cofounder, but dude apparently knows how to shred on guitar. The philanthropist and Seattle Seahawks owner announced on Twitter today that he and his band the Underthinkers will be releasing a debut album, Everywhere At Once, on August 6th. According to Amazon, the album is an "all-star, 13-song program of blues-based guitar rock nuggets" and will feature guests from Heart and Los Lobos. Guess you know what you're getting your dad for Father's Day!
Mr. Allen is well-known as a supporter of the arts, and is a founder of Seattle's Experience Music Project museum (when it opened in 2000, he inaugurated it by smashing a glass guitar on stage). Nor is he the first tech bigwig to make a foray into the music business. Last week Groupon CEO Andrew Mason announced he's also putting out an album, albeit one comprised of tracks spouting business wisdom. These two will be neck in neck on the Billboard 100, we're sure.
Meanwhile, maybe Mr. Allen can teach BlackBerry a thing or two about classic rock.
(h/t Komonews)