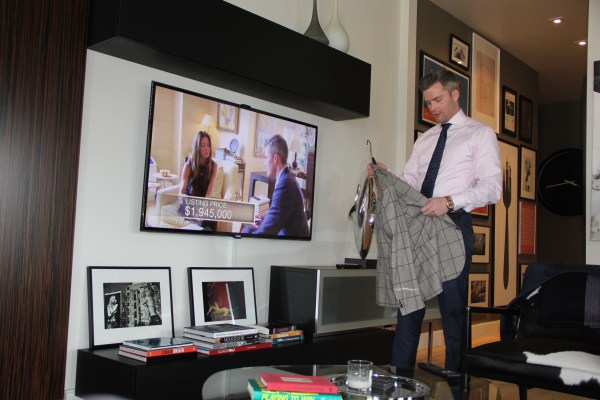 7:45 AM: Ryan Serhant, the former hand model/soap opera actor-turned-real estate superstar, beats The Observer to his Tribeca office by an hour. "I'm always the first one in," brags the 28-year-old broker at Nest Seekers International, a boutique real estate brokerage firm.
He has been up since 4:23 a.m, was at the gym by 5 a.m. and in the office shortly thereafter. When we offer to go for a bleary-eyed coffee run, he yells from his office, "Don't forget to write about how you were an hour late!"

8:30 AM: It's time for a team meeting with Mr. Serhant's partner, Nick Jabbour, assistant Olivia Robertson and broker Mariana Pomerlian.
As one of three realtors on Bravo's Million Dollar Listing New York, Mr. Serhant plays the part of a rakish bad boy on TV. (He once threw an open house with nearly nude women and an Eyes Wide Shut theme.) But despite that playboy rep, Mr. Serhant is an extremely serious broker with a sterling reputation: he and Mr. Jabbour have put the relatively small Nest Seekers on the map since Mr. Serhant began working for the company four years ago. (According to Mr. Jabbour, the group now manages about $50 million in estates in New York City as well as $10 million in Miami and has at least one $7 million space in L.A.) Last year, Mssrs. Serhant and Jabbour earned a spot on The Real Deal's "Top Manhattan Agents" power rankings, with a combined listing volume of more than $114 million.
9:00 AM: We jump into an Escalade with Mr. Serhant's driver, Yuriy, and stop by his apartment. If such a thing is possible, Mr. Serhant has upgraded his already luxe lifestyle for the show's second season: He moved from 20 Pine Street to a West Chelsea apartment furnished by Nikki Cheng at BoConcepts. He's got a new storefront office in Tribeca, where he manages a team of 12.
And that Escalade? That's new too.
Mr. Serhant is unapologetic about his reality TV stardom. "Someone with a father or brother in the business here, they might not need the show," he says, a veiled dig at former co-star Michael Lorber, the son of Howard Lorber, chairman of Douglas Elliman and president and CEO of Vector Group Ltd., who left the show after season one.
Mr. Serhant was only 25 when he was approached by Bravo (his work at 99 John Street had made him the youngest sales director in New York City). He says he saw the show as a mountain ledge from which he could either climb to the summit, or fall very quickly.
"Friends cautioned me, 'Don't do it. You don't want to be like the Kardashians. Just build up a credible business,'" Mr. Serhant chuckles. "But that just seemed boring."
9:15 AM: We make a quick stop to look at some construction not far from the High Line. Mr. Serhant has a vested interest here, because he plans to rep the only non-rental condo on the block (which he asked us not to disclose). "West Chelsea, this is the next frontier in real estate," he says. He talks about apartments going for $3,000 per square foot.
9:30 AM: We walk through a space on East 17th Street. Mr. Serhant is representing the owner, who wants to lease the 6,000-square-foot apartment for $25,000 per month. The potential tenant enters with his broker and, after a five-minute tour, they agree to fax over their signed contract.
9:45 AM: Mr. Serhant picks up his brunch: a Monster energy drink and a protein bar. "Most people are lazy," he says. "Most people want weekends. People don't want to wake up early. People want to go home and watch reruns of How I Met Your Mother."
"Or Million Dollar Listing," we joke.
"Exactly," Mr. Serhant says, not joking.
10:30 AM: We're uptown for a developer meeting at Young Woo & Associates to discuss a listing for 200 11th Avenue. Though Mr. Serhant doesn't have the listing yet, he really wants it, and his presentation to Mr. Woo—known to be a little eccentric—is to give him a print by French photographic surrealist Allistair Magnaldo that features a girl who has built a ladder to reach the stars.
"I want to do something like that," Mr. Serhant says confidently. He then slides another batch of photos across the table, having broken into the building across the street with a photographer to take pictures of the Sky Garage, which he then sent to Spine3D, a company that does photorealistic prints. Now the pictures include a car in a hot air balloon, floating up as if to try and glimpse inside the penthouse.
There is a second of silence, and then Mr. Woo slowly begins to clap.
11:45 AM:  From the car, Mr. Serhant calls a client to give her some good news: her offer of $890,000 was accepted at the Setai downtown.
12:00 PM: Lunchtime, but not for us. Mr. Serhant has prepared a personalized book for a potential buyer, a law student looking to stay in the West Chelsea. He shows her two properties. The first one is a fixer-upper in a co-op; the second one has a bedroom that the woman finds "too small." Within 10 minutes of driving away, the woman's father calls and tells Mr. Serhant to make an offer on the first apartment.
1:15 PM: Heading back to Nest Seekers' HQ in Midtown, Mr. Serhant is going over the contract for a building in West Chelsea. Once sold, Mr. Serhant tells us, it will be converted into residential condos by a developer, whom he is representing, and he will receive $1 million in commission.
1:30 PM: Powwow at 415 Madison with Eddie Shapiro, CEO of Nest Seekers. They discuss the recent meeting at Young Woo & Associates, and then Mr. Shapiro hands out his latest assignment for his famous broker: start marketing in Brooklyn.
"We're going to start listing around Brooklyn Heights area," Mr. Shapiro grins, "but we need to find another name for places around there. Let's get creative." Mr. Serhant looks less than thrilled; the word "Brooklyn" has frozen his face like he's in the middle of a sneeze.
1:45 PM: Explaining he "doesn't usually do this," Mr. Serhant stops for lunch: a tuna panini at Pax. To go.
2:00 PM: Back in the car, Mr. Serhant manages a quick phone interview with a local Pennsylvania newspaper in anticipation of a speaking engagement in Lehigh Valley.
"I want to leverage as much opportunity from this experience as possible," he tells The Observer. Currently, he's hitting the luxury property lecture circuit. "No one is educated about the market," he says, finishing off his lunch in three bites. "So many people get into real estate because they are fascinated by quick money, which doesn't really exist, and they are fascinated by the idea that you don't have to have an education to go into business. So a lot of idiots get into real estate." (We decline to mention that Mr. Serhant's reality show does little to contradict this perception, cutting months-long deals into minutes of TV narrative.)