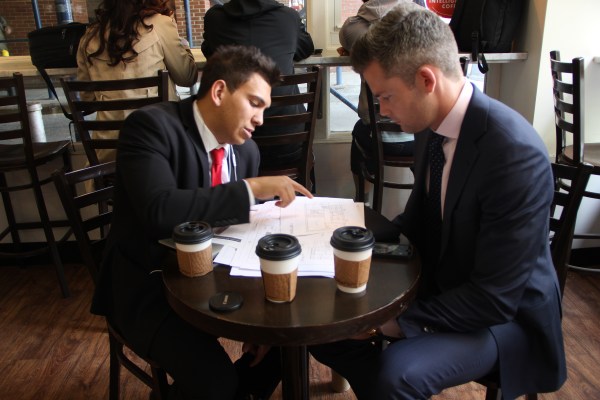 2:30 PM: Weekly sales meeting with Nest Seekers broker Amjad Pervez. Together, they are co-marketing a new condo in Kip's Bay. At 90 days, they've already hit the 65% sold mark.
3:30 PM: In the financial district, Mr. Serhant is consulting for Erin Wicomb, the VP and cofounder of Equity Mavrix Group, who is working on the company's first 40-plus unit condo building in the area. "You always want a walk-in closet, you always want a double vanity," Mr. Serhant proclaims. "Hell or high water, you need a washer dryer. Yes, in the apartment."
The developer takes the broker's word as gospel. "We need to consult with the best," he says, "and Ryan knows what buyers will want."
4:30 PM: We head back to Mr. Serhant's apartment in West Chelsea. His stylist is there with suits for Mr. Serhant's upcoming LA trip. To keep The Observer occupied, he plays the week's yet-to-be-aired episode of Million Dollar Listing.
It's a surprisingly emotional episode, as the lives of all three brokers are suddenly disrupted by Superstorm Sandy. His co-stars shack up with family or significant others, while Mr. Serhant has a very un-reality show moment of self-awareness in a voice-over confessional.
"In moments like this, moments of chaos, moments of crisis, people go to their loved ones. You go to your girlfriend or your family or your friends," he says, while we see an image of him sitting alone on the steps of the Financial Building, cold-calling former flames.
"I'm alone. When the city shuts down and everyone is taking a pause to be with their loved ones, um, I'm completely alone."
We look at Mr. Serhant, who is standing next to the TV, to see if he's watching himself, but he is not. He is deciding which tie to wear on Marie Osmond's show next week.
5:00 PM: Back in the Escalade, Mr. Serhant is on his way to meet an interior designer to discuss a client looking for a three-bedroom in Soho for $8 million when he gets another good-news phone call: the seller accepted his client's offer of $14.9 million for an apartment at Trump Fifth Avenue. It's the first unit Mr. Serhant has sold in the building.
It's been seven hours since he tossed back his Monster energy drink, but he is pumped. Only seven more hours to go before Mr. Serhant can sleep, when he will congratulate himself on another successful day, eager to start it all over again four and a half hours later.