Morning News Digest: Thursday, May 16, 2013
By Matthew Arco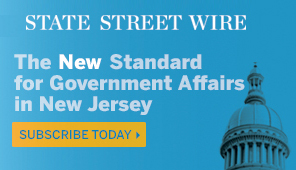 Sweeney cuts all GOP bills from Senate agenda in Kean retaliation
Senate President Steve Sweeney has slashed all GOP-introduced bills from next Monday's committee agendas in retaliation for what he and others in the upper chamber say was a cheap political maneuver by Sen. Tom Kean Jr.
According to three sources familiar with Sweeney's actions, the Senate president's move is payback for Kean's blocking of a procedural maneuver on the Senate floor Monday that would have allowed a vote on Sweeney's bill strengthening background checks for gun purchasers. (Isherwood/PolitickerNJ)
http://www.politickernj.com/65570/sweeney-cuts-all-gop-bills-senate-agenda-kean-retaliation
Sires allies hit the phones, congressman calls Fulop, as O'Dea talk starts in CD8
The image late in the day Monday of U.S. Rep. Albio Sires (D-8) hustling through the streets of the Jersey City Heights with Mayor Jerry Healy created the inevitable aftermath question about payback.
And the question: Will Jersey City Mayor-elect Steve Fulop run a candidate against the sitting congressman next year? (Pizarro/PolitickerNJ)
http://www.politickernj.com/65574/sires-allies-hit-phones-congressman-calls-fulop-odea-talk-starts-cd8
Kean blasts Sweeney on 'allowing his emotions' to get in the way of good policy
Sen. Tom Kean Jr. responded this afternoon to the Senate president's decision to hack all GOP-sponsored bills out of the Senate agenda.
Kean said Senate President Steve Sweeney is allowing his emotions to get in the way of good policy. (Isherwood/PolitickerNJ)
http://www.politickernj.com/65573/kean-blasts-sweeney-allowing-his-emotions-get-way-good-policy
List of GOP-backed bills pulled from committee agendas
TRENTON – At least seven bills that have primarily Republican sponsors were pulled from committee hearings next Monday due to an ongoing battle between Senate President Steve Sweeney and GOP Senate leader Thomas Kean Jr.
The bills address a variety of issues, including property valuations when dunes are constructed, converting some fines into tax liens, and allowing delivery of property tax bills and some other official correspondence via email. (State Street Wire)
http://www.politickernj.com/65572/gop-backed-bills-pulled-committee-agendas
Fulop, Jersey City and Governor
He just won a local contest, and Steve Fulop can't escape gubernatorial politics.
The Jersey City Mayor-elect's victory on Tuesday night catapulted him onto a short list of potential 2017 gubernatorial contenders in the post-Chris Christie era. But it also immediately threw the white collar Democrat into party discussions about his endorsement plans this year. (Pizarro/PolitickerNJ)
http://www.politickernj.com/65571/fulop-jersey-city-and-governor
Christie 'Today' show appearance could generate equal time issues for primary foe
TRENTON – Gov. Chris Christie's upcoming Today show appearance could give the governor's lesser-known primary opponent grounds for requesting equal on-air time, says an FCC official.
According to the commission's Media Bureau's Policy Division, Christie's slated appearance on the Today show as a "co-host" would mean Seth Grossman, an Atlantic County-based lawyer challenging the governor in the Republican primary, could request broadcasters afford him equal time, said Robert Baker, Assistant Division Chief of the media bureau. (Arco/PolitickerNJ)
http://www.politickernj.com/65569/christie-today-show-appearance-could-generate-equal-time-issues-primary-foe
Dems object as Christie clan stars in publicly funded tourism ads
Gov. Chris Christie and his family are starring in television commercials kicking off a publicly funded $25 million tourism campaign heralding the rebirth of the Jersey Shore after Hurricane Sandy.
"We're stronger than the storm," Christie says in a 30-second ad that started airing Monday. More spots will follow next week. (Portnoy/Star-Ledger)
http://www.nj.com/politics/index.ssf/2013/05/christie_films_psa_for_nj.html#incart_river
Gov. Tom Kean to new William Paterson college grads: We need you in politics
Calling the partisan discord paralyzing Washington appalling, former Gov. Tom Kean used his address at William Paterson University's commencement today to call on new college graduates to consider a life in politics and public service.
Kean, who comes from one of the nation's oldest political families, made an impassioned plea for a return to a time when a career in government was considered a noble profession. (Heyboer/Star-Ledger)
http://www.nj.com/news/index.ssf/2013/05/us_needs_a_new_generation_to_f.html#incart_river
Christie administration says language is 'boilerplate,' not threat to pension payments
The Christie administration today said it will make good on agreed-to pension payments, stressing that suggestions the contributions may be in jeopardy is unfounded and stems from "boilerplate" language in a bond prospectus that was routinely included in previous documents.
The defense comes as Gov. Chris Christie faces criticism for warning investors that ballooning pension payments — which are estimated to grow from $1.7 billion in the coming fiscal year to about $5.5 billion by 2018 — will drain resources and "create a significant burden on all aspects of the State's finances." (Renshaw/Star-Ledger)
http://www.nj.com/politics/index.ssf/2013/05/christie_administration_says_l.html#incart_river
For N.J. Employers, Wellness Programs Seen as Way to Bolster Bottom Line
New Jersey employers gathered yesterday to swap tips and learn strategies for developing wellness programs that can improve their employees' health – and reduce company costs in the long run.
Sharon Seitzman, president of provider-owned insurer QualCare Inc., cited studies showing that employers can reduce medical costs by $3.27 for every dollar they spend on workplace wellness initiatives and by $5.60 for every dollar spent on prevention programs. (Kitchenman/NJSpotlight)
http://www.njspotlight.com/stories/13/05/15/for-n-j-employers-wellness-programs-seen-as-way-to-bolster-bottom-line/
Judge's Reversal of Bullying Ruling Upheld by State Education Chief
Two years after enactment of New Jersey's strict anti-bullying law, state Education Commissioner Chris Cerf has for the first time reversed a district's finding of bullying, saying the incident was simply a more-innocent conflict between two students.
In a decision handed down in late April and posted last week, Cerf found that the Pittsgrove school district's charge against an eighth-grade student identified as C.H. ran counter to the new law. The student had been accused of bullying after a February 2012 incident in which he shoved a piece of crumpled paper down a classmate's shirt. (Mooney/NJSpotlight)
http://www.njspotlight.com/stories/13/05/15/judge-s-reversal-of-bullying-ruling-upheld-by-state-education-chief/
Company to Shutter One of Dirtiest Power Plants Ahead of Schedule
One of the dirtiest power plants affecting New Jersey's air quality will shut down six months earlier than originally scheduled.
In a consent decree signed with New Jersey and Connecticut, NRG Energy agreed to cease operation of two coal-fired generating units at its Portland plant in Mt. Bethel, Pa. in June 2014. (Johnson/NJSpotlight)
http://www.njspotlight.com/stories/13/05/15/company-to-shutter-one-of-dirtiest-power-plants-ahead-of-schedule/
Dem 2016 poll: Hillary Clinton still on top
The renewed interest in the Sept. 11, 2012, attack at the U.S. post in Benghazi, Libya, has not shaken Hillary Clinton's position among potential 2016 contenders, according to a new poll.
The former secretary of state — under fire by conservatives who say she played politics with the attack in which Ambassador Chris Stevens and three others were killed — still leads the potential 2016 Democratic field with 63 percent of the vote in her party, according to a Public Policy Polling poll released Wednesday. (Cirilli/POLITICO)
http://www.politico.com/story/2013/05/dem-2016-poll-hillary-clinton-still-on-top-91417.html
Advocacy groups unite to fight higher energy bills
Standing in front of a row of retirees in yellow AARP T-shirts today, New Jersey Chemistry Council Executive Director Hal Bozarth couldn't help but remark on the diversity of the group he's now a part of.
"It's a rare press event and a rare coalition that brings together the manufacturing and commercial communities with (New Jersey) Citizen Action, New Jersey PIRG (Public Interest Research Group) and AARP all on the same side of a single issue," Bozarth said. (Kaltwasser/NJBIZ)
http://www.njbiz.com/article/20130515/NJBIZ01/130519889/Advocacy-groups-unite-to-fight-higher-energy-bills
For Rutgers, hiring a chance to put scandal behind it
Rutgers University is hoping to usher in a scandal-free era at 3 p.m. today, when university officials will announce Julie Hermann has been hired to replace Tim Pernetti, who resigned as athletic director April 5 in the wake of the Mike Rice scandal.

To do so, they'll have to present Hermann correctly, said Karen Kessler, a reputation manager in Warren who is not working with Rutgers on the announcement. (Bourbeau/NJBIZ)
http://www.njbiz.com/article/20130515/NJBIZ01/130519894/For-Rutgers-hiring-a-chance-to-put-scandal-behind-it
From the Back Room
Sweeney fundraiser for Buono exceeds goal
Senate President Steve Sweeney helped raise more than $50,000 for gubernatorial hopeful Barbara Buono, according to a source.
The state's top Democratic lawmaker hosted a fundraiser for the presumptive Democratic nominee Tuesday evening. The goal was to raise at least $50,000 at the event at Auletto's Caterers in Deptford, Gloucester County. (Isherwood/PolitickerNJ)
http://www.politickernj.com/back_room/sweeney-fundraiser-buono-exceeds-goal
Opinion
Is evoking Corzine wise? We will find out
For years Republicans have complained that President Barack Obama both campaigned and governed by pointing a finger at his predecessor in office and tsk-tsking about the mess he was left to clean up.
President George W. Bush was a convenient boogeyman, leaving office in 2009 with two wars raging, an economy in tatters and historically low poll numbers. (Schoonejongen/APP)
http://www.app.com/article/20130515/NJCOLUMNIST25/305150036/Is-evoking-Corzine-wise-We-will-find-out?nclick_check=1
Opinion: N.J.'s economic development polices are working to retain, attract businesses
In just this past month, it has been my pleasure to attend nine ribbon cuttings or groundbreakings for companies that are committed to doing business in New Jersey as a home for economic growth.
This flurry of positive business activity proves that Gov. Christie's economic development policies are motivating companies to invest in the future of the Garden State, and by doing so, are creating more job opportunities for New Jersey families. (Lt. Gov. Kim Guadagno/Times of Trenton guest column)