Morning News Digest: Monday, May 13, 2013
By Matthew Arco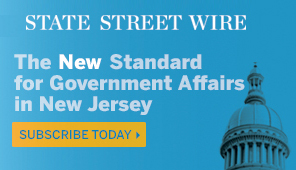 Christie goes negative in latest ad
Gov. Chris Christie plans to hit presumptive Democratic gubernatorial nominee with the tax and spend label tomorrow in his first negative television ad of the campaign season.
The ad, Christie's second, will begin running as part of a more than $800,000 media purchase that was first reported by PolitickerNJ. (Isherwood/PolitickerNJ)
http://www.politickernj.com/65443/christie-goes-negative-latest-ad
Gun-control advocates nearly opposed bills until critical changes made
TRENTON – Gun reform advocates say they nearly pulled their support of the Senate's gun bills earlier this week before there was eleventh-hour wrangling and "bottom line" revisions made to key proposals.
The gun package, which is being spearheaded in large part by Senate President Steve Sweeney, cleared a Senate panel Thursday but nearly failed to garner the support of groups that have been the loudest voices for gun reform in the state. (Arco/PolitickerNJ)
http://www.politickernj.com/65433/gun-control-advocates-nearly-opposed-bills-until-critical-changes-made
Court: Colon must be sentenced in ballot fraud case
Attorney General Jeffrey S. Chiesa announced that the Appellate Division of State Superior Court today ruled in favor of the Division of Criminal Justice that a Newark man who pleaded guilty to submitting fraudulent absentee ballots while working for the 2007 campaign of Teresa Ruiz for the New Jersey Senate must be sentenced to state prison. (PolitickerNJ)
http://www.politickernj.com/65432/court-colon-must-be-sentenced-ballot-fraud-case
Winners and Losers: Tuesday is Election Day
Regardless of who wins next week's Jersey City mayor's race, it's been one of the most exciting contests in a long time – at least since the 2012 Democratic Primary in CD 9.
Good luck to all the competitors, who continue to fight hard.
May the best man win. (PolitickerNJ)
http://www.politickernj.com/65430/winners-and-losers-tuesday-election-day
Christie not just a pol, but a celebrity
Sometime before the Saturday Night Live appearance, before Shaq stopped by to say hello, before the second nod on Time's "most influential people in the world" list, the governor of New Jersey morphed into something else.
He became a bona fide 21st-century celebrity. (Katz/The Inquirer)
http://www.philly.com/philly/news/politics/20130512_Christie_not_just_a_pol__but_a_celebrity.html
Booker pulling in the cash from outside N.J.
WASHINGTON – How do you raise $1.9 million in three months?
If you're Newark Mayor Cory Booker, you tap into a network of admirers that includes some of Hollywood's biggest producers, media moguls, and name-brand developers. (Tamari/The Inquirer)
http://www.philly.com/philly/news/new_jersey/20130512_Booker_pulling_in_the_cash_from_outside_N_J_.html
Atlantic City Places Another Bet on Summer 2013
As Atlantic City boosters await the arrival of Memorial Day weekend, they're trumpeting the start of yet-another new era for the beleaguered city.
It seems as if they have more than enough to herald: the grand opening of Jimmy Buffet's $35 million Margaritaville complex at Resorts Hotel Casino; new management and a first-on-the-East-Coast "day-club" at the bankrupt Revel; and a $20 million advertising campaign by the city's casino-funded marketing arm. (Nurin/NJSpotlight)
http://www.njspotlight.com/stories/13/05/12/atlantic-city-places-another-bet-on-summer-2013/
State Program Helps Replace and Upgrade Sandy-Damaged Appliances
The state plans to continue a popular program in the aftermath of Hurricane Sandy, offering residents and businesses enhanced incentives to replace storm-destroyed appliances with more energy-efficient equipment. (Johnson/NJSpotlight)
http://www.njspotlight.com/stories/13/05/12/state-program-helps-upgrade-sandy-damaged-appliances/
Power transfer issues raised, Christie's procedure involved anesthesia
Gov. Chris Christie says he didn't turn over power to Lt. Gov. Kim Guadagno when he underwent secret weight-loss surgery in February despite the state constitution requiring a transfer of power when the governor is unable to serve.
However, constitutional experts say the law is vague on what conditions must be present for a transfer. (Jordan/APP)
http://www.app.com/article/20130513/NJNEWS11/305130009/Power-transfer-issues-raised-Christie-s-procedure-involved-anesthesia?nclick_check=1
The Auditor: Christie's promise not to talk more about weight loss surgery lasted two days
Well, that didn't take long.
On Tuesday, the world learned Gov. Chris Christie had undergone secret Lap-Band surgery three months ago in his ongoing battle with his weight, so at a news conference, he addressed — this one time — what he said was a deeply personal issue. (Auditor/Star-Ledger)
http://blog.nj.com/njv_auditor/2013/05/the_auditor_christies_promise.html#incart_river
Environmental group who endorsed Christie in 2009 now has buyer's remorse
When Chris Christie began his mission to unseat Democratic Gov. Jon Corzine in 2009, he got a boost from an unlikely source: the influential New Jersey Environmental Federation, which had never endorsed a Republican candidate for governor in its three-decade history.
At the time, the group said Christie had pledged to be a friend to the environment. (Hutchins/Star-Ledger)
http://www.nj.com/politics/index.ssf/2013/05/environmental_group_who_endors.html#incart_river
Christie talks weight, Sandy and politics in interview with Brian Williams
Gov. Chris Christie called himself a "damn good Republican" in a wide-ranging television interview Friday night, and said his praise of President Obama after Hurricane Sandy wouldn't harm his chances in a Republican primary should he chose to run for president.
Asked by Brian Williams, host of the NBC program "Rock Center," how he would survive the skeptical eye of his party's far-right primary voters, Christie said, "I think very well." (Portnoy/Star-Ledger)
http://www.nj.com/politics/index.ssf/2013/05/christie_brian_williams_jersey.html#incart_river
Lawmakers spar over Christie's tax record, tax cut proposal
As the Legislature continues its slog through budget hearings, lawmakers on both sides of the aisle are trading barbs over a favorite topic: taxes. (Kaltwasser/NJBIZ)
http://www.njbiz.com/article/20130510/NJBIZ01/130519965/Lawmakers-spar-over-Christies-tax-record-tax-cut-proposal
From the Back Room
Sweeney to host Buono fundraiser
Senate President Steve Sweeney will host a fundraiser Tuesday in honor of presumptive Democratic gubernatorial nominee Barbara Buono. (Isherwood/PolitickerNJ)
http://www.politickernj.com/back_room/sweeney-host-buono-fundraiser
Senators Caught on Tape: "Confiscate, Confiscate, Confiscate"
Second Amendment rights advocates are fuming today over words from three Democratic state senator caught on tape after Thursday's hearing on the upper chamber's gun control package.
The three female senators, who sound from the recording to be Sen. Loretta Weinberg, Sen. Sandy Cunningham and Sen. Linda Greenstein are heard discussing the just-closed hearing. (Isherwood/PolitickerNJ)
http://www.politickernj.com/back_room/confiscate-confiscate-confiscate
Governor to headline county GOP fundraisers next week
Gov. Chris Christie will be the featured attraction at fundraisers next week for key GOP county organizations. (Isherwood/PolitickerNJ)
http://www.politickernj.com/back_room/governor-headline-county-gop-fundraisers-next-week
Opinion
Opinion: The Next Challenge for Obamacare — Finding and Enrolling the Uninsured
The road to national health reform has been rough, to say the least. The Patient Protection and Affordable Care Act (ACA) passed Congress three years ago in a cliffhanger vote following the death of Sen. Edward Kennedy and subsequent loss of the Democrats' filibuster-proof majority. Then the law survived its historic Supreme Court challenge mostly unscathed. (Cantor/NJSpotlight)
http://www.njspotlight.com/stories/13/05/12/an-extraordinary-outreach-effort-will-have-to-be-mounted-to-bring-the-benefits-of-aca-to-many-who-need-insurance-the-most/
Moran: Support slipping for Cami Anderson, Newark's schools chief
In her second year as superintendent of schools in Newark, Cami Anderson is watching her political support in the city collapse.
The school advisory committee recently cast a vote of no confidence. Not to be outdone, the city council passed a resolution opposing all reforms during the next school year.
(Moran/Star-Ledger)
http://blog.nj.com/njv_tom_moran/2013/05/moran_support_slipping_for_cam.html#incart_river
Church and state, separated for a reason: Editorial
When it comes to schools, church-and-state separation isn't the clear line we like to think it is. New Jersey gives money to parochial schools for busing, textbooks, nurses and special education. Students get government aid to attend religious schools. And many people support vouchers, which would pay private-school tuition for kids leaving failing public schools. (Star-Ledger)
http://blog.nj.com/njv_editorial_page/2013/05/church_and_state_separated_for.html#incart_river
Christie beneficiary of Democratic infighting
From the reaction to Gov. Chris Christie's Thursday veto of a bill that would have established an early voting program in New Jersey, you would have thought that Democrats had achieved a rare moment of unanimous outcry. (Schoonejongen/APP)
http://www.app.com/article/20130512/NJCOLUMNIST25/305120033/Christie-beneficiary-Democratic-infighting