Morning News Digest: Friday, May 17, 2013
By Matthew Arco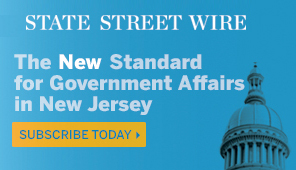 Smith intends to fight for HCDO seat as Bernie Kenny's name re-emerges in Fulop era
Mayor Jerry Healy's loss Tuesday night inevitably triggered intra-party discussions about consequences to the Hudson County Democratic Organization (HCDO), specifically Chairman Mark Smith.
Healy's loss splashed on Smith, who also took a 2011 ding in West New York, then ran afoul of U.S. Sen. Bob Menendez (D-NJ) last year when he picked Nia Gill instead of the Essex County-establishment favored Donald Payne. (Pizarro/PolitickerNJ)
http://www.politickernj.com/65604/smith-intends-fight-hcdo-seat-bernie-kennys-name-re-emerges-fulop-era
Source: Buono undeterred on state chair question
Amid an uptick among some party members who would like to see state Sen. Barbara Buono (D-18) bestow the party chairmanship upon veteran Passaic County Democratic Committee Chair John Currie, a source close to Buono pushed back.
Buono is said to prefer Assemblyman Jason O'Donnell (D-31) for state party chair. Senate President Steve Sweeney (D-3) doesn't favor O'Donnell and told Buono as much earlier this week. (Pizarro/PolitickerNJ)
http://www.politickernj.com/65615/source-buono-undeterred-state-chair-question
Councilman Rice doesn't rule out LG if asked
The name of Newark West Ward Councilman Ronald C. Rice keeps circulating in Democratic Party circles as a possible candidate for lieutenant governor.
Ultimately, it is the choice of state Sen. Barbara Buono (D-18), Democratic gubernatorial contender. (Pizarro/POlitickerNJ)
http://www.politickernj.com/65614/councilman-rice-doesnt-rule-out-lg-if-asked
Blanco takes himself out of the LG mix
Democratic Party buzz tonight put Passaic Mayor Alex Blanco in the LG bull ring, but Blanco doesn't want the job.
"Lots of unfinished business in Passaic," said the mayor. (Pizarro/PolitickerNJ)
http://www.politickernj.com/65612/blanco-takes-himself-out-lg-mix
Smith: if Buono picks O'Donnell for state party chairmanship she will be well-served
Hudson County Democratic Chairman Mark Smith wouldn't confirm state Sen. Barbara Buono's (D-18) state party chair choice as HCDO consigliere Assemblyman Jason O'Donnell (D-31).
But if she goes that way, she'll be getting a great state chairman, Smith told PolitickerNJ.com. (Pizarro/PolitickerNJ)
http://www.politickernj.com/65608/smith-if-buono-picks-odonnell-state-party-chairmanship-she-will-be-well-served
Special interests alive and well, Christie says in lamenting lack of voucher programs
SAYREVILLE – Gov. Chris Christie again turned his attention to New Jersey's teacher unions when talking about school vouchers.
The governor told residents the reason the state does not have a school voucher program is because of "the power" of special interests in New Jersey. Christie was asked by a resident whether he supports a voucher program. (Arco/PolitickerNJ)
http://www.politickernj.com/65607/special-interests-alive-and-well-christie-says-lamenting-lack-voucher-programs
Christie: Focused on gubernatorial – not White House – race
SAYREVILLE – The residents of Middlesex County may have wanted to get Gov. Chris Christie to talk about a 2016 presidential election, but he wasn't going to take the bait.
The governor responded to a question of whether he plans to make a run for the White House by telling residents he plans to "keep [his] eyes on the ball," saying he's focused on being re-elected as governor – not becoming the next president. (Arco/PolitickerNJ)
http://www.politickernj.com/65605/christie-focused-gubernatorial-not-white-house-race
In Sayreville, Christie touts jobs numbers
SAYREVILLE – Gov. Chris Christie took April's unemployment numbers on the road Thursday, telling a town hall crowd to roaring applause that "something is happening here."
The governor touted the recent job figures that indicated 4,100 private-sector jobs helped edge the state's unemployment rate to 8.7 percent – down from 9 percent the prior month. Christie shared the news with hundreds in Sayreville as the governor heads into a campaign against a presumptive Democratic opponent who has hammered him on the state's higher than the national average jobless rate. (PolitickerNJ)
http://www.politickernj.com/65603/sayreville-christie-touts-jobs-numbers
NJEA leader, a Christie foil, is stepping down
TRENTON — One of Gov. Chris Christie's biggest antagonists is handing over her role at the top of the state's largest teachers union when her second term ends in August.
New Jersey Education Association President Barbara Keshishian has been at the group's helm for four years. (AP)
http://www.northjersey.com/news/state/NJEA_leader_a_Christie_foil_is_stepping_down.html
Christie announces $300M program to buy flood-prone homes by next spring
By next spring, New Jersey plans to buy 300 flood-prone homes along the Passaic River and another 1,000 damaged by superstorm Sandy, Governor Christie said Thursday.
Christie announced the $300 million federally funded program at a town hall-style event in Sayreville, drawing thunderous applause from the more than 750 people in attendance. One woman even offered to give him her keys immediately. (Hayes/The Record)
http://www.northjersey.com/news/Christie_to_announce_300M_program_to_buy_flood-prone_homes.html
Lautenberg returns to DC
WASHINGTON — New Jersey Sen. Frank Lautenberg was back in the Capitol for the second time since February this afternoon, but he didn't answer questions from reporters.
Lautenberg, a Democrat, voted at a committee hearing to help break an impasse on President Obama's nominee to lead the Environmental Protection Agency, Gina McCarthy. He was wheeled in by an aide and did not speak during the 15-minute hearing, other than to say "aye," helping Democrats advance the stalled nomination. (Tamari/Inquirer)
http://www.philly.com/philly/blogs/capitolinq/Lautenberg-returns-to-DC.html
State will reimburse Princeton $464,000 for consolidation costs
The state will reimburse Princeton nearly the full amount officials requested to cover the cost of the town's historic consolidation, which could allow a cut in the municipal tax rate, Mayor Liz Lempert said today.
In a letter, a Department of Community Affairs official said the state will reimburse Princeton $464,000 to cover 20 percent of the cost of merging the former Princeton Borough and Princeton Township. The merger occurred Jan. 1. (Offredo/Times of Trenton)
http://www.nj.com/mercer/index.ssf/2013/05/state_will_reimburse_princeton.html#incart_river
N.J.'s outdated formula cuts into property tax relief
More than a million New Jersey homeowners will get up to $114 less in property tax relief this year because the state is using an outdated formula.
A seldom-read and rarely discussed section of the state budget has kept the baseline year for calculating Homestead property tax relief benefits set at 2006 — when property taxes were much lower than they are now. (Reitmeyer/The Record)
http://www.northjersey.com/news/NJs_outdated_formula_cuts_into_property_tax_relief.html
Christie campaign reworking sources of ad claim
TRENTON – In TV attack ads, politicians often put text underneath the images to indicate the sources of statistics used to skewer the opposition.
But in the ad that Republican Gov. Christie has been running this week against State Sen. Barbara Buono (D., Middlesex), his expected challenger in November, the source cited is unrelated to the accusation. (Katz/Inquirer)
http://www.philly.com/philly/news/new_jersey/20130516_Christie_campaign_reworking_sources_of_ad_claim.html
Senate Committee Favors Funding Open-Space Preservation With Sales Tax Revenue
The Legislature may to be moving forward on constitutionally dedicating $200 million each year from the state's sales tax to preserve open space and farmland.
In legislation up for a vote in the Senate Environment and Energy Committee on Monday, the chairman of the committee says the approach is the one most favored by senators. Many environmental groups also support the initiative. (Johnson/NJSpotlight)
http://www.njspotlight.com/stories/13/05/16/senate-committee-favors-funding-open-space-preservation-with-sales-tax-revenue/
Health Insurance 'David' Aspires to Stand Up to 'Goliaths'
In a state that's dominated by insurance Goliaths, the Freelancers CO-OP is setting out to prove that it can be a giant-slaying David – or at least a viable alternative.
It's not setting out on this mission alone. It's one of 24 Consumer Operated and Oriented Plans (CO-OPs) established in different states under the 2010 Affordable Care Act, a model that federal officials hope will result in affordable, consumer-friendly healthcare. (Kitchenman/NJSpotlight)
http://www.njspotlight.com/stories/13/05/16/health-insurance-david-aspires-to-stand-up-to-goliaths/
From the Back Room
The kiss of Barack
By our count, after Tuesday night Barack Obama now has a 3-4 record in New Jersey elections.
We may be missing one (maybe it was Corzine's gubernatorial bid) but here are the contests where we can recall the President played. (PolitickerNJ)
http://www.politickernj.com/back_room/kiss-barack
Joe D's favor with Christie doesn't deter Menendez
Democrats didn't look like they were in a protest mood as hundreds jammed McLoones boathouse restaurant in West Orange Monday night, part of the Turtle Back Zoo complex where last month the county executive cut the ribbon for a new sea lion exhibit with his pal Gov. Chris Christie.
"This was the best political event Joe D has ever had," said Divincenzo Chief of Staff and event Organizer Philip Alagia. "We had a huge crowd, with supporters from all over the State attending, the Infernos Band had people dancing, and McLoones and the setup made the evening perfect." (PolitickerNJ)
http://www.politickernj.com/back_room/joe-ds-favor-christie-doesnt-deter-menendez
Codey to announce tobacco legislation in NYC
State Sen. Dick Codey is scheduled to appear today with New York City Mayoral candidate Christine Quinn to announce new tobacco legislation.
Codey and Assemblyman Ruben Ramos will introduce legislation requiring anyone purchasing tobacco products to be 21 years old. Codey signed legislation while governor to make the age limit 19. (Isherwood/PolitickerNJ)
http://www.politickernj.com/back_room/codey-announce-tobacco-legislation-nyc
Opinion
Obama's chilling effect: Editorial
President Obama's channeling of President Nixon continued this week in the wake of the IRS scandal when we learned that he trampled on basic press freedoms, as well.
What is this, screw-up season at the White House? Is the president trying to give credence to the conspiracy theorists who have been ranting for years about imaginary abuses of federal power? (Star-Ledger)
http://blog.nj.com/njv_editorial_page/2013/05/obamas_chilling_effect_editori.html
Editorial: Proposal to raise N.J. tobacco sales age to 21 is well-intentioned, but unnecessary
There's no denying the harmful effects of smoking cigarettes. It's a dirty, cancer-causing, addictive habit.
The dangers of second-hand smoke, not to mention the awful smell, have forced those who continue to partake to the fringes of society. The New Jersey Smoke-Free Air Act adopted in 2006 banned smoking from indoor workplaces, restaurants and other facilities. Towns have taken restrictions further by outlawing smoking in public places like beaches and parks. Even casinos, the havens of vice, have gone smoke free. (Times of Trenton)
http://www.nj.com/times-opinion/index.ssf/2013/05/editorial_proposal_to_raise_nj.html