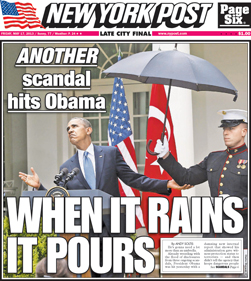 Headline of the Day: "Sheldon-come-lately"
Assembly Speaker Shelly Silver's late-night call to expel disgraced Assemblymen Vito Lopez from office hasn't helped to temper calls for his head. But most Democratic leaders seem unlikely to push for disciplinary action against the speaker. Gov. Andrew Cu0mo told reporters yesterday he didn't think it was his place "to say who the speaker is and who the speaker should be." He added: "I don't see any comparison between what Vito Lopez and what Shelly Silver did … There is a magnitude of difference."
On an unrelated note, the governor seems to be raking in the green. His most recent finance disclosure statement, made public Thursday, shows he made between $1.75 million and $2 million. The bulk of his assets are reportedly managed by a blind trust at AMG National Trust Bank.
NBC 4 New York spotted Anthony Weiner and his wife Huma Abedin filming what appeared to be a campaign-style video yesterday on the stoop of Mr. Weiner's childhood Park Slope home–the same place he kicked off his 2005 campaign. Sources told the Daily News Mr.Weiner is planning to launch his candidacy in a video instead of in person to avoid the potential embarrassment of hecklers. "A video is an easy, focused and safe option, opposed to an event rollout where not every single thing can be controlled," said one former aide.
Meanwhile, the Weiners' finances are coming under added scrutiny. Politico reported that Secretary of State Hillary Clinton created a special arrangement for Ms. Abedin that allowed her to do private consulting work for clients while serving as a top adviser to the State Department—an arrangement that Ms. Abedin failed to report in disclosure statements.
Endorsement season is underway, but some are choosing to sit out the game. Manhattan Democratic Party leaders decided last night not to endorse any candidate in the race to succeed Mayor Michael Bloomberg, according to the Daily News. Party Chair Keith Wright told the paper the move was not intended as a slight against either City Council Speaker Christie Quinn or former Comptroller Bill Thompson, who both live in the borough. "We thought it wise that we do not endorse as a county because a lot of our clubs throughout the borough have already decided to endorse candidates," he reportedly said. The group is also choosing to stay out of the public advocate and borough president races.
If you're one of those people still lamenting the mayoral choices: Take solace. It could be worse. Gawker reported last night that it had viewed a video allegedly showing Toronto's Mayor Rob Ford smoking crack cocaine. The video is being shopped around by a group of Somali drug dealers looking for a six figure payout, according to the Toronto Star.
Meanwhile, State Senator Eric Adams, one of the lawmakers secretly recorded by ex-State Sen. Shirley Huntley, is trying to clear his name as he soldiers on with his campaign for Brooklyn borough president. "There's nothing on those tapes that's detrimental to me. Nothing. Nothing," he told the Brooklyn Young Democrats earlier this week, warning scheming colleagues to steer clear. "If you come and talk to me about breaking the law, you're gonna find my handcuffs," he said. "I'm not here to break the law. I'm here to serve the people of the state and I'm consistent about that." See the rest of his remarks here:
[youtube http://www.youtube.com/watch?v=wfn52S2ztNM&w=560&h=315]