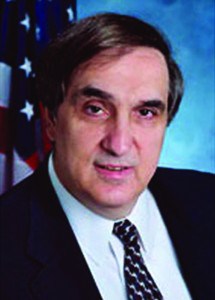 Describing his conduct as "nauseating," City Council Speaker Christine Quinn again called on disgraced Assemblyman Vito Lopez to resign from office, but held her fire when it came to Assembly Speaker Sheldon Silver.
A day after the release of a scathing report detailing Mr. Lopez's alleged sexual harassment of numerous young female staffers, Ms. Quinn said Mr. Lopez had no business serving in elected office–much less running for the City Council–and urged New Yorkers to do anything they can to keep him out of City Hall.
"I think what we are finding out now in very specific–and quite frankly nauseating detail–is shocking and Assemblymember Lopez should resign from his position as an Assemblymember immediately. He should drop his run for the City Council. And if he doesn't do that, everyone in New York City needs to get behind his opponent, Antonio Reynoso, get together and make sure that Antonio gets elected," she told reporters at an unrelated press conference at City Hall.
"To allow Vito Lopez, after what he did in the State Capitol, to be allowed into this building, to potentially, in the name of representing New Yorkers, conduct himself in such a horrible way would be an outrage," she added. "It is incumbent upon all of us in New York to join together behind Antonio and make sure Vito does not get into this building."
Ms. Quinn had vowed to do anything in her power to keep Mr. Lopez out of office even before the report. Mr. Lopez has rejected the "salacious and sensational" claims as "fallacious"
Still, Mr. Quinn declined to call for action against Assembly Speaker Sheldon Silver, who, the report alleged, had tried to shield Mr. Lopez by dragging his feet in first reporting the harassment and keeping the claims secret from the press.
Clearly, she said, Mr. Silver had "made mistakes" in his handling the complaints. But she said he had already promised swift reforms.
"He has made a commitment to move forward and reform the process in Albany," she said. "He needs to move quickly to address those and to take real steps to put reforms in place so those kind of mistakes can never happen again."
She also declined to weigh in on specific reforms–or calls for the Assembly to expel Mr. Lopez from his seat.
"I don't know what the powers are that they have," she said, but added that, had the same allegations been made against a City Councilman, he would be gone.
As for City Councilman Daniel Halloran, who was arrested as part of an alleged bribery scheme, she said the case is still under investigation, tying the council's hands.