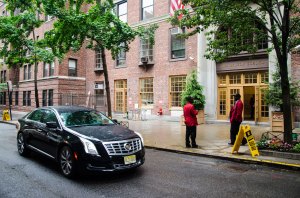 Living on the Upper East Side, one gets accustomed to seeing ridiculous things, from $300 plates of truffle pasta to couture dog collars. But this one was a first. The other evening, I was walking off the leaden canapés after another deadly fund-raiser in someone's "aerie." As I was passing a venerable Park Avenue residential building, a black SUV came to a halt.
A Dwayne Johnson-proportioned driver got out, lifted a supine teenager from the backseat like a bag of golf clubs and lugged him to the door. "I've taken away your cellphone," he said. "You'll get it back when your parents return." He then deposited the drunken youth in the lobby. "Sleep next to a garbage can," he cautioned before leaving his charge in the custody of the doormen.
The New York Post recently wrote about parents who were passing off their classroom volunteer duties onto nannies, much to the dismay of their private schools, or rather, of the other moms, who didn't fancy selling snickerdoodles alongside hired help at bake sales. The story ricocheted around the Upper East Side, a neighborhood whose privileged parents stand accused of outsourcing every child-rearing task, from cooking to etiquette training.
As someone who lives and raises kids there, I'm here to tell you that these charges are all pretty much true. (It's actually worse.) But now drivers are stepping in as parents as well? That was something I hadn't heard.
I don't want to be seen as a hypocrite here; we use car services during the week and occasionally a driver on the weekend as needed. But let me be clear that these are people who merely transport our family—nothing more—and there's always another adult in the vehicle. As my kids get older, will I be calling upon these men to mete out punishments to my children? Ground them? Attend parent-teacher-conferences in my stead? Drop them off at college someday?
I'm sure it's been done before.
The next day, I was having drinks at the kind of private club that still insists on ties, no jeans and no technology (a port in the storm when you are surrounded by private equity guys), when I relayed the incident to a friend with older children. He explained that to a growing degree, drivers are the eyes and ears of uptown parents: protecting, chaperoning, disciplining and dragging teens out of clubs when they are wasted.
Crucial to these drivers' job success is being able to finesse the tension between parents who hire them to spy on their children and teenagers who try to ditch their captors at every turn. "Ex-cops and detectives make the best drivers," my friend said. "They are good at picking up clues, and they get right in there and pull the kids out of clubs when they're shitfaced. Must be a Staten Island thing."
"Aren't the parents supposed to do that?" I asked, sipping the kind of martini that only a gentile club could make.
"Of course," he munched on an olive. "When they're back from St. Barths."
"AS FAR AS I'M CONCERNED, it was either a driver or boarding school," said a friend the next night. My wife Dana and I were out with another couple who are big in real estate banking. Their kids are five years older than our own, and their driver's job duties are as limitless as their kids' run of the city.
"If you think I'm going to police my children after midnight, you have another thing coming. Until I got Vince, I was missing spin at 7:30," she said. "It was starting to affect my looks."
This is a mom who started letting her kid drink in front of her at age 15. "They were coming home drunk … so now I let them have wine or beer in front of me," she said, knocking back a vodka and cranberry.
"At 15?" Dana asked.
"You'll see when your kids get to be our kids' ages," she said. "Younger wives are always so idealistic until the moment comes. And then you'll fold like the rest of us."
The more I asked, the more the stories began to pile up, many of them of a cat-and-mouse nature. Parents hiring ex-Mossad agents with spy cams and installing tracking devices in their kids' phones (until the kids were smart enough to disable them). Children running out the back door of a club to party down the street while the driver slept out front.
A golfing partner revealed that his family's driver, an ex-cop, carries a Glock. "I'd rather have a driver that my kids know and like than have them take cabs from someone right off the boat. Who knows if they're safe?" he said swinging his sand wedge in the trap. "It's accountability. And that matters to me." (Also, if there's a traffic altercation, having an ex-cop call the cops can't be the worst thing.)
A college-age man I know—who still speaks twice a month to the driver his family hired in high school—said that having a driver had its advantages when it came to high school romance. Except when he was dating a girl whose family had one as well.
"Her father would send her driver to follow us to see what was going on. Of course, we tried to lose the tail."
"Did it work?"
"Sometimes, but he was good. He always managed to track us down."
LAST YEAR, WHEN MY KID wanted to take a cab to a downtown party at 9 p.m., I vetoed it, thinking 12 was a little on the young side. The other child went. I'm still surprised by other parents' willingness to give their teenagers the run of the city and leave the drivers in charge. When it comes to going out unsupervised to parties and clubs, 13 is the new 18. Why not keep it simple and put the kids on a shorter leash?
As it turns out, there is no single answer. There are the "me time" parents, who complain that family time or chaperoning their kids puts a dent in their own social lives. Then there were the divorced couples, who relied on drivers as neutral shuttle services between both homes, with the driver deployed as communicator and mediator. In my observation, divorces often breed permissiveness, because the parties can't agree on a uniform parenting style.
The last subset—perhaps the chief offenders—is a group whose own deficiencies as teenagers fuel their kids' social lives. They're the formerly uncool high school students who want desperately to live vicariously through their children. The men tend to be Napoleonic and, having conquered the world of finance, they often have unlimited cash and credit to dispense to their progeny. They populate New York campuses with incredibly indulged and well-dressed children and believe that money and power are the keys to popularity. For them, drivers are less chaperones than enablers: helping kids gain club access, bottle service, fake IDs and, yes, romantic partners.
Of course, all this late-night surveillance comes at a cost. I was at a charity gala at the Met's Egyptian wing when I ran into one of the Upper East Side Queens of Consumerism, noted for her outsized diamonds as well as her outsized handbag collection. "Weekend drivers all want premium pay after 8," she lamented, clicking a crystal Miniaudière in the shape of a farm animal. "And pizza's not good enough. They want spicy tuna rolls and black cod with miso takeout." She touched up her lips and floated off like a chiffon-and-diamond nimbus cloud.
And why shouldn't drivers want Nobu? All the better to nourish them for long nights babysitting the misbehaving offspring of the city's elite.
Some may argue that there is a moral lapse in letting the driver take on parenting duties. My kids are still too young, so I leave it to others to judge. But would a little help with algebra be out of the question?

Richard Kirshenbaum, the co-founder of Kirshenbaum Bond + Partners, is the chief executive of NSG/Swat, a creative services and product development company. He has lived on the Upper East Side for 18 years.