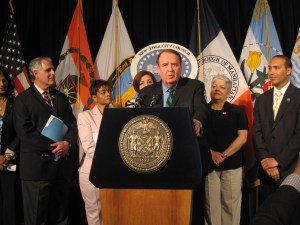 The nanny state is creeping across the border.
New Jersey lawmakers traveled all the way to New York City Hall Thursday to announce their plans to introduce legislation boosting the tobacco purchase age in the Garden State to 21. The announcement comes less than a month after City Council Speaker Christine Quinn unveiled similar plans for the city, which were quickly followed by lawmakers in Albany.
"Less than a month after our initial announcement, our great neighboring state of New Jersey is planning to introduce legislation to do exactly the same thing: raise the age to purchase tobacco to 21," Ms. Quinn said at a press conference, where she was joined by ex-New Jersey Gov. Richard Codey, who is now a state senator, and New Jersey Assemblyman Ruben Ramos. "This has now truly become a regional, if not national, effort," added Ms. Quinn.
Mr. Codey, who plans to introduce the legislation next Monday, acknowledged it was rather unusual for lawmakers from his state to travel to Manhattan to make announcements about their plans.
"I said that to my staff," he told reporters when asked about the decision and how New Jersey residents might react to the news. But, he explained that, while he'd been sitting on the legislation for a while, the latest push was inspired by Ms. Quinn.
"You know what? It's about doing the right thing," he said.
Ms. Quinn, who has a vacation home in Jersey, also promised that next time they worked on something together, she'd be the one to travel–prompting an exchange that made it clear that Ms. Quinn's mayoral campaign is always on her colleagues' minds.
"The next piece of legislation that we do together, we will go to Trenton or whatever," she said.
"Hopefully you'll come as the mayor," Mr. Codey said.
"From New Jersey's lips to God's ears!" said Ms. Quinn.
Asked if that counted as an endorsement, Mr. Codey was coy.
"She hasn't asked me yet. I like a lady to ask! What's wrong with that?" he said, prompting a big hug between the two as Ms. Quinn laughed.
State Senator Diane Savino also took the chance to try to stir up cross-border competition, issuing a challenge to Gov. Andrew Cuomo and New Jersey's Chris Christie, who just might end up facing each other in the presidential election in 2016.
"We have a governor–you may have heard of him–Andrew Cuomo. He's got a little bit of healthy competition with your governor, Gov. Christie. So this is a challenge to see which state can be the leader, who can pass it first, and which governor could put their signature on it,"she said.
Ms. Quinn welcomed the competition. "If anything will light a little bit of fire under the you-know-what's in Albany or Trenton," she said.
Mr. Christie's office did not immediately respond to a call for comment on whether he supports the 21 push.