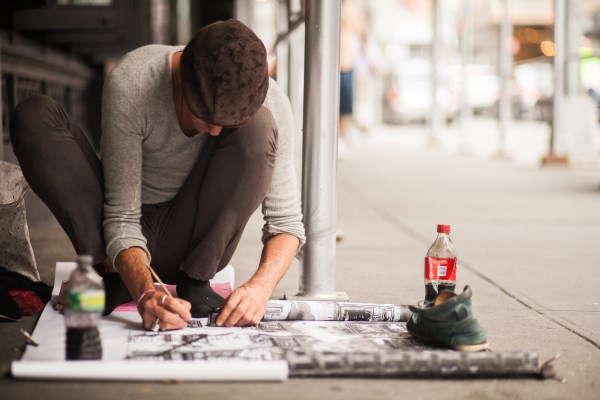 The artist appeared on our block two weeks ago. A lean man with inky fingers covered in silver rings, he wore a cap, a small button fastened to the bottom of his shirt—"I love porn"—and a menthol-flavored Marlboro tucked behind one ear. He would arrive around 9 a.m., arrange his scroll of paper, his pot of ink and his various clips on the sidewalk between The Observer offices and the adjacent Japanese barbecue joint, remaining there, painting intently, until 6 or 7 p.m. As he painted, he scrunched himself into contorted positions and seemed not to take breaks or register the passersby, who invariably stared.
We were curious about the new arrival on our block. Though of course West 44th between Eighth and Ninth Avenues hardly belongs to us alone. We share it with a lumber yard, a theatrical supply company, the Intercontinental Hotel, several parking lots and a convenience store whose clientele appear to buy nothing but lottery tickets. And, as we recently learned, we also share it with the dingy walk-up where Cuban novelist and poet Reinaldo Arenas spent the last years of his life and committed suicide in 1990 at age 47, impoverished and suffering from AIDS.
It was the walk-up, No. 328, that had brought the artist to our block. He is, we learned when we spoke to him one smudgy evening after he had finished packing away his supplies, a Frenchman named Thomas Henriot. Four years ago, after reading all of the writer's work, Mr. Henriot started working on a project about Arenas, who was not, Mr. Henriot told us sadly, "as recognized as he should be."
Mr. Henriot chose to paint the places that Arenas had loved, and lived. This involved some time in Brazil and a lot of time in Cuba, where Arenas had spent most of his life, persecuted for his homosexuality and imprisoned for his writings, which had to be smuggled out of the country in order to be published.
"He has such an incredible story, because when he was in jail, persecuted by the regime, he still managed to write," Mr. Henriot said. "There is a book he wrote, Otra Vez el Mar, it is about 700 pages, and he had to write it three times. He wrote it and the police took it, he wrote it again and they took it again. Finally, he wrote it a third time and that time it was published. This strongness, this absolute creativity!
"I am not pro-Castrist, I am not anti-Castrist, it's not political," he continued. "With my work, what I try to prove is that painting is a space of liberty. This is where I cross Arenas."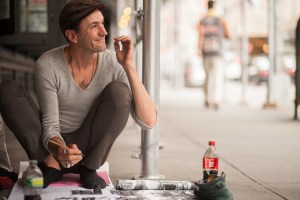 When we spoke, Mr. Henriot had just finished the second panel of a triptych of the exterior of 328 West 44th, a finely detailed painting—he uses an ancient Chinese brush and ink technique—that he flipped over at the end and covered with strokes and blotches of diluted ink that soaked through to the front. He had been in the city for two weeks and intends to stay for two months, during which time he plans to paint other places Arenas had loved—he wrote a lot about Central Park—and some of the people he had known.
As for our block, there had been "a lot of good meetings," he said, people he'd spoken with about Arenas, Colombian immigrants who worked nearby and chatted in Spanish ("much better than my English"), the building security guard who, as Mr. Henriot put it, "protects me really nicely," with bathroom breaks and cups of water.
As for 328 West 44th, he had not been inside and he did not know which window had been Arenas's, but he likes it better that way.
"It's good because every window I paint I am wondering. I try not to know anything about a place when I start, I want the knowledge to come through the painting," Mr. Henriot said. "It's almost like a meditation. I was here for nine hours today and I feel blessed to be able to do this. I mean, it's my duty."
We studied the building for a moment.
"It does not surprise me that this was his home because it's the only one like it on the block," he said, finally. "And without the steps"—here he pointed to the fire escapes zigzagging up the building's elegant but rundown facade—"it could be a building in Havana."