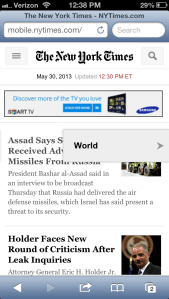 Have you visited the New York Times website on an iPhone recently? If so, you were probably prompted to check out the Times's newly redesigned mobile website.
The whole idea of a publication touting it's mobile site may seem like a relic from 2006, that long-ago time when the most advanced phone was the Blackberry, which was hopelessly unable to display and navigate full websites. When the iPhone was unveiled in 2007, one of its main selling points was that users could "see any web page the way it was designed to be seen." Blackberry users who visited the Times site saw a boring list of articles, but iPhone users saw the full Times site in all its glory.
But today's redesign shows that rumors of the mobile website's death have been greatly exaggerated. As mobile traffic becomes increasingly important—Buzzfeed already gets half of their traffic from mobile—news organizations need to make sure that their content is easy to read on mobile devices, and dedicated mobile websites are one way to do that.
"When we launched our mobile Web site in 2006, we designed it for the dominant click-devices in the marketplace at the time," Denise Warren, executive vice-president of the Times's Digital Products and Services Group, said in an announcement. "This relaunch optimizes our mobile site for the latest generation of devices, so New York Times readers can easily consume, share and navigate our breadth of content when using a mobile browser on their smart phone."
The redesign includes a number of features designed for touchscreen phones: readers can now swipe to the side to see the next article or section and click a button to save an article to read later on an iPad or computer. The redesign also lets users post comments from the mobile site for the first time, because nothing increases engagement like letting readers insult one another from the safe remove of their phones.
But if you're hoping to use the mobile site as a way to get around the paywall, you're out of luck. Just like the desktop site, non-subscribers are limited to 10 articles per month.