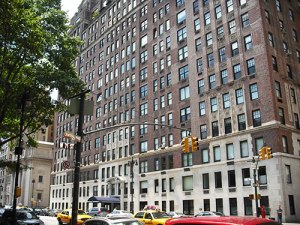 Completed in 1930, 101 Central Park West is about as famous as the Gershwins' most famous productions. And for the past three decades, it's also been home to Marc Gershwin, the son of George and Ira's brother Arthur. The songwriters' less-well-known brother was, according to his son, a minor composer who "had the misfortune to be the brother of a dead genius."
When Mr. Gershwin took over trusteeship of the famous Gershwin music trove—estimated to bring in $5 to $10 million a year—he told The Telegraph that "it was not being well minded: Ira had been very passive and trusted everyone." Mr. Gershwin has been warier, turning down an all-white Finnish version as well as a more insidious apartheid-era South African production of Porgy and Bess. (That said, they haven't been as faithful to the original productions as Stephen Sondheim would have liked—he penned a sneering and sarcastic letter to The New York Times decrying a recent adaptation of George Gershwin's operatic magnum opus.)
When Mr. Gershwin and his wife, Andrea, tried to sell their 15th-floor co-op at 101 CPW, they got their own taste of rejection—their first buyer, who went into contract for the unit in late 2012, was turned down by the board, broker Lorraine Ding of Akam Sales and Brokerage told The Observer (she shared the listing with her colleague Michele Gershwin, a relative of the sellers).
But they quickly found another buyer—Eiko Adams, who makes his home, according to city records, on St. Croix—and the deal was sealed. It wasn't the $5.75 million that Mr. and Ms. Gershwin wanted, but after thirty years of ownership, we're guessing that they still netted a tidy profit with the $5.37 million sale.
Living at one of the most prestigious addresses on Central Park West, Mr. Adams might be able to sneak a peak at Georgina Bloomberg in the elevator (attended, natch, so he'll have to be stealthy with those iPhone shots), who paid more than $4 million for a unit in the building after reportedly scoping out more than 150 apartments throughout the five boroughs. (Just kidding—we'd be surprised if she even looked in Brooklyn.) The Schwartz and Gross-designed building was also once home to Robert A.M. Stern who may have even cribbed some pre-war details for that other building he designed on Central Park West.
The apartment itself is a classic seven, with "side park views," according to the broker (the real estate equivalent of sideboob, we presume) and oversized windows, snuck in before the Landmarks Preservation Commission put an end to the building's proliferating window styles when they expanded the Central Park West Historic District in 1990.