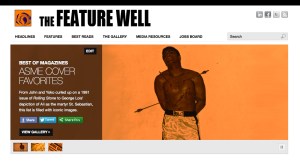 Last week, Pacific Standard's digital director Nick Jackson announced on Facebook and Twitter that he was starting a new website that would "be a place for inside-baseball coverage of the media industry and serve as a home for resources for both aspiring and professional journalists."
Mr. Jackson actually came up with the idea for The Feature Well back in 2011 when he was covering technology as an associate editor at The Atlantic.
He crafted a memo and registered the domain name while at The Atlantic, but despite what he characterized as "a lot of interest," the project never got off the ground and was eventually shelved
But last week, inspired by the news that The Columbia Journalism Review was facing financial trouble (it was a particularly bad week in media), Mr. Jackson decided to dust off the site. He is now anticipating an early June launch and urging people to sign up for his newsletter on the site's still-barebones temporary landing page.
"But what is The Feature Well?  It's sort of TBD," Mr. Jackson told us over email. "But the short version is that I want this to grow to be a smarter version of MediaBistro, without all of the angry and sarcastic Betsy Rothsteins of the world."
Mr. Jackson anticipates a resource-heavy website that eventually includes an archive of magazine cover design, professor-annotated syllabi from media classes, job boards, advice on pitching, a collection of mastheads and "other very basic resources I wish would have been around when I was trying to make connections and get started in this business," Mr. Jackson explained.
Sounds admirable if not necessarily a sure-fire commercial success. But then again, Mr. Jackson doesn't need the site to be financially viable—he has a day job for that.
"I have the luxury of a great job and plenty of work to keep me busy and pay the bills; The Feature Well is really something I'm interested in, a sort of digital notebook. It doesn't need to be successful by any measure," Mr. Jackson wrote. "If nothing else, it'll be my personal site and archives that I open to the world; if you want to visit, feel free."
If nothing else, we are glad to see that in this day and age, there are still people interested enough in media to launch a site.