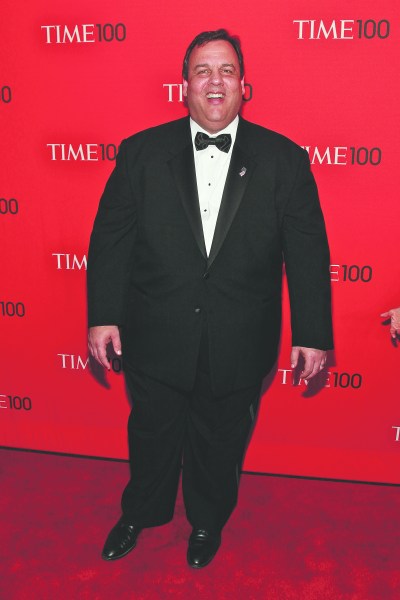 From scrunchie-gate to bang-mageddon, American political figures have often had to contend with intense media scrutiny when it comes to their physical appearances. And while the country's female politicians usually take the brunt of the criticism, none has had it worse than poor Chris Christie.
The husky, spider-killing New Jersey Governor  has been followed since day one by the notion that he's "too fat to be President" (because apparently the fattest country in the world doesn't want a President molded in its own, McDonalds-guzzling image).
So it's hard to ignore the possible political motivations behind the news—revealed in The Post today—that Mr. Christie underwent secret stomach surgery in February in order to slim down. However, Mr. Christie claims that the move was not at all motivated by a possible Presidential run, but was done for his kids (and to prep for Jersey Shore bikini season, duh!)
According to The Post, Mr. Christie had the "lap-band"  surgery February under a fake name and has already lost nearly forty pounds.
The Post, content to leave nothing to the imagination, describes the surgery in some detail, which involves "placing a silicone tube around the top of his stomach, where it restricts the amount of food he can eat at one time and makes him feel fuller, faster."
Based on emprical evidence, the surgery has been a success. "I went to a steakhouse and ordered a steak and ate about a third of it and I was full," Mr. Christie told The Post. No word on what effects a slimmer Mr. Christie will have on New Jersey's restaurant industry (maybe New Jersey could change its name to the 'Garden Salad State?' Just spitballing here).
The political world has been abuzz with the notion that the surgery indicates Mr. Christie's intention to run for President in 2016. As one political donor told The Post, "This means he's running for president. He's showing people that he can get his weight in control. It was the one thing holding him back."
Mr. Christie, however, is keeping mum on the possibility of a presidential run, claiming that the surgery was motivated by the desire to be around for his kids.
"I've struggled with this issue for 20 years," said Mr. Christie. "For me, this is about turning 50 and looking at my children and wanting to be there for them. It's so much more important than [running for president]."
That being said, if he does choose to run, we have a new surgery idea that's guaranteed to endear him to the electorate. Two words: Mobama arms.