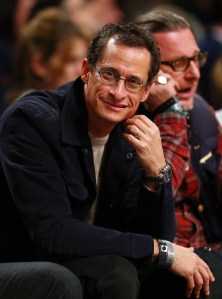 After jumping late into a race they've been running in for months, ex-Rep. Anthony Weiner decided to break the ice with his now-Democratic rivals with a telephoned "hello" before they meet on the campaign trail.
"I've done a round of courtesy calls," Mr. Weiner told Politicker during a telephone interview Wednesday–hours after formally launching his campaign for mayor.
Mr. Weiner said he'd reached out to all of his fellow Democratic contenders, from current front-runner and City Council Speaker Christine Quinn to longer-shots, including former Councilman Sal Albanese and conservative Rev. Erick Salgado.
But not everyone has been eager to call him back.
While he has spoken to the above trio, along with former Comptroller Bill Thompson, he said that Public Advocate Bill de Blasio had yet to return his message. It was furthermore unclear what Comptroller John Liu's callback status was. Representatives for Mr. Liu and Mr. de Blasio did not immediately return Politicker's own outreaches.
Mr. Weiner is expected to court some of the same outer-borough, progressive voters that Mr. de Blasio has been counting on, making the rivalry between the men especially strong. For his part, Mr. Liu flatly dismissed Mr. Weiner at a mayoral forum this morning, telling the audience, "Honestly, I won't be voting for him."
A spokesman for Mr. Albanese described his conversation with Mr. Weiner, which took place this morning, as "quick and cordial." Mr. Salgado described his own call as "friendly" on Twitter. Mr. Thompson's spokeswoman confirmed they spoke but did not have additional details. Ms. Quinn's spokesman did not return a request for comment.
Mr. Weiner also revealed to Politicker that he hasn't spoken with House Minority Leader Nancy Pelosi since his resignation following the sexting scandal that forced him out nearly two years ago. Ms. Pelosi had called for Mr. Weiner's resignation after he tried to seek treatment during a leave of absence.
"I don't believe so," Mr, Weiner said when we inquired about Ms. Pelosi.
When it came to President Barack Obama, he said he'd have to check with his wife to make sure they hadn't attended a same event, but couldn't recall speaking to the nation's top executive. Mr. Obama said at the time that he would resign if he were in Mr. Weiner's shoes.
Of course, much has changed in the two years since the resignation; Mr. Weiner has become a father, and he and his wife, Huma Abedin, traded in their modest Forest Hills co-op for a swanky Park Avenue condo.
But at least one thing, Mr. Weiner said, would never change: his home team.
"Is there any chance I'd be a Yankee fan? I think my left and right arms might fall off," he said when pushed on the subject. "I'm a Mets fan. And I know that doesn't poll well, but it's deep in my veins."
Additional reporting by Colin Campbell.