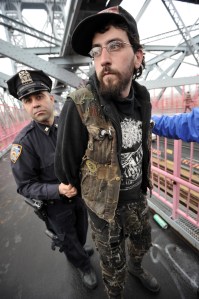 The NYCLU thinks the NYPD is way too frisky.
According to a new study by the civil liberties group, 400,000 innocent people, largely black and latino youths, were wrongfully stopped through the course of 2012 due to the NYPD's stop and frisk policy. This policy gives policeman the power to stop people on the street, only on suspicion of wrongdoing.
Unfortunately, these stops rarely turn up anything: eighty-nine percent of stops didn't result in a minor violation or summons, and only two percent of stops resulted in the discovery of an illegal weapon. When the police didn't find something, it was usually after they stopped a person of color (blacks accounted for 55 percent of innocent stops, latinos 32 percent).
Sometimes police did find something: marijuana. This is despite both Mayor Bloomberg and Police Commissioner Kelly's efforts to reduce the amount of marijuana arrests, instead opting for court summons.
"Despite the welcome decline in the overall number of stops, the NYPD last year still subjected hundreds of thousands of innocent people to humiliating, intimidating and unjustified stop-and-frisk encounters," Executive Director Donna Lieberman said in a statement.
She urged whoever takes the helm at City Hall to reevaluate the policy. "The city's next mayor must make a clean break from the Bloomberg administration's ineffective and abusive stop-and-frisk regime," she said.
There is some good news, however: The number of total stops dropped from 685,724 in 2011 to 582,911 in 2012.