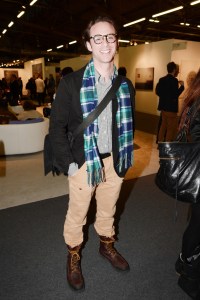 This art history professor might be a little too interested in the female form.
Medieval Art expert and NYU professor Ross Finocchio, 34, was arrested for spying on two women, ages 26 and 28, in the dressing rooms of Beacon's Closet, a West Village boutique. He is accused of hiding his iPhone in his shoe and then not-so-subtly sliding it into the neighboring change room.
"I told the store manager that I saw him put something under the door but I didn't see what it was," his alleged victim, a 26-year-old woman, said to The Post.
The woman notified the store's manager, Stephanie Williams, before the pair  watched as Mr. Finocchio started creeping on another customer, the women said.
"I knocked [on Mr. Finoochio's dressing room door] and said, 'You have to come out right now,'" Ms. Williams said.
Ms. Williams thoughtfully snapped a photo of Mr. Finocchio as he emerged from the dressing room; as you can see from the photo, Mr. Finocchio was reportedly "sweating profusely." As Ms. Williams led the perspiring professor to the front of the store, a co-worker called the cops.
Mr. Finocchio claimed he was  "recording myself for a project" and unsurprisingly, nobody bought it. Mr. Finocchio was charged with unlawful surveillance, a felony, and reportedly admitted to making the recordings.
"Until this matter is cleared up, he will not be assigned to any duties that involves contact with students," said an NYU spokesman. Hear that, art history majors? Exams are cancelled! Just kidding, probably.