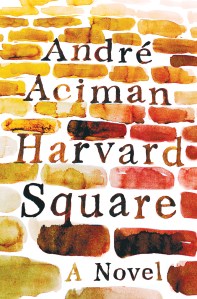 André Aciman would seem a prototypical ambassador of learned neither-here-nor-thereness, an Alexandrian Jew whose output as a novelist of nostalgia rivals his stature as a scholar of Proust. But if his well-received 1994 memoir Out of Egypt stood apart as a personal-political lament, Harvard Square, a semiautobiographical work of fiction, deals with an altogether different sort of longing.
 The exile at hand is hardly geopolitical—the furtive loneliness of a Harvard doctoral student in literature easing his monasticism with a magnum of Beefeater purloined from a department function. He doses daily from the bottle, drinking and sunning himself as he reads for his comprehensive exams. Our unnamed narrator, fearful of failing the tests a second and final time, is equally estranged from worlds  near (friendly yet unattainable neighbors whose cries of passion he hears at night) and far (not his coastal Alexandria, to which return is unthinkable, but Paris, the aspirational lodestar of his youth).
 It is an arid solitude, and Monsieur Kalashnikov punctures it in a chance Cambridge café encounter. He's Kalaj, a Tunisian cab driver whose bottomless invective against civilization and its ersatz is more culture schlock than culture shock. Nobody is spared: "NATO, UNESCO, Nabisco, Ceausescu, Tabasco, Lambrusco, you name it …" But Kalaj is a false radical whose rants have the affect of a cafe Casanova, and we see an intriguing and ultimately ill-fated summer friendship develop between the two men.
It's a thoughtful mise-en-scène, though the pregnant symbolism may prove too distracting for some readers—including the Times, whose review stumbles on the book's sly opening, "Cambridge was a desert," dimly offering that the "hero is himself, like the author, familiar with the desert." A less ersatz reading, however, reveals a delicately poignant interplay of desire and memory, and is Mr. Aciman at his greatest.