BIG BROTHER
LIONEL SHRIVER
(HarperCollins, 384 pp., $26.99)
Lionel Shriver's novel about a school massacre, We Need to Talk About Kevin, was a nasty piece of work, populated by thin-lipped characters that were so unlikeable they might have walked straight out of a cautionary German folktale. Her latest, Big Brother, is about a woman's relationship with her brother (not her son, as is the case in Kevin—a distinction that is sometimes uncomfortably blurred), who is eating himself to death. Both books are about the sacrifices we are forced to make for filial relations.
Yet there is a warmth throughout Big Brother that was missing from the more allegorical Kevin. The mouthful of surnamed characters—Pandora Halfdanarson, Edison Appaloosa and Fletcher Feurbachs—are all fully three-dimensional. And while they, like Kevin, have a taste for wanton self-destruction and a palate for the subtle distinctions of a dish best served cold, they are far more believable as human beings than some of Ms. Shriver's previous attempts.
Which is not to say that Big Brother is the author's best book. Big Brother is a tapestry of rich, fleshy, pastoral Americana for the Atkins Diet generation. The results, however, are bland. If food is a metaphor, it's also a mundane reality of existence, Ms. Shriver tells us, which is true but also a quick—and ultimately hollow—solution for explaining the motivations behind her characters. In other words, the author wants to have her cake and eat it too. —Drew Grant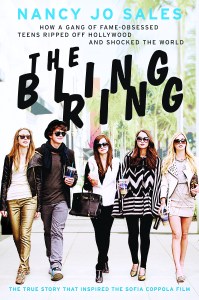 THE BLING RING
NANCY JO SALES
(It Books, 288 pp., $15.99)
Lindsay Lohan used to plant stories about herself in the tabloids, she once told Vanity Fair writer Nancy Jo Sales, because the actress thought tabloids had become "like the main source of news in the world." Ms. Sales carries this notion into her new book The Bling Ring, which is tied in to the new Sofia Coppola movie and expands her 2010 Vanity Fair story "The Suspect Wore Louboutins" to encompass the trial, the press and the vulgar California wilderness that produced the fake thugs who fake robbed the fake celebrities. The book is highbrow gawking, but the case is so weird it feels like anthropological research. One lawyer points out that the whole thing gets you thinking about the Mansons. And why did one of them spill his guts to the cops without any sort of deal?
If you were to nitpick this book, which is already vastly better than it needs to be, you might say it could have used a better edit. Ms. Sales has frequent analytical asides, some of them welcome—did you ever notice that a number of the gang's victims, like Audrina Patridge, Rachel Bilson and Paris Hilton, were not only rich but also played rich people on television?—and some of them not. We have to sit through some scientific studies about how kids these days want to be famous. We are told not only what MILF means, but why it is significant that it is now a term. Most of these what-does-it-all-mean moments are no fun, but the rest of it really is. When was the last time you read a great piece of crime reportage in which the victims are totally unsympathetic? —Dan Duray