It's a back-to-work Tuesday, and Stark Sands and Charl Brown are not resting on their Tony nominations. They are anxious to get back into harness.
"You sorta beat your body into shape over the course of the week, then you get a day off—it's like a reset button," Mr. Sands told The Observer over his pre-show matzo ball soup at The Edison Café. "You have to start again. It takes a bit longer to warm up."
Mr. Brown couldn't agree more: "Once you get into the groove of the week, your body is ready for action every single day. But when coming back on Tuesday, you also have to wake your brain back up."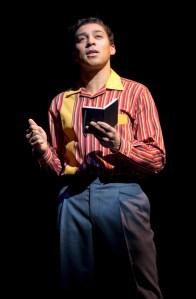 These two have been best buds for more than 15 years. Their paths first crossed at the University of Southern California during Freshman Orientation Week of '97, and four years later they were playing the palace of Charlemagne in a class of '01 production of Pippin. During their college years, they got the pal act down pat—both as classmates and as co-stars—so much so, in fact, that they are now Tony-contending (happily, not in the same category) as best friends to the prime movers of their respective musicals.
Mr. Brown is in Motown, speaking and singing in a high-pitched husky haze as Smokey Robinson, first star and chief deputy to Berry Gordy (Brandon Victor Dixon) during the formation of their Detroit vinyl empire. Mr. Sands plays Kinky Boots' Charlie Price, a straitlaced young shoe manufacturer who, to save the family business, gets his marching orders from a flamboyant drag-diva named Lola (Billy Porter) and executes her aggressively glitzy designs.
Supporting performances don't come much more supportive than these, but since the lower-keyed Mr. Sands is a solid sounding-board for Mr. Porter's flashier antics, and since he is (lest we forget) The Boss, his performance has been kicked upstairs to starring-level for Tony consideration, where he now competes with Mr. Porter.
"It's a wonderful challenge every night," Mr. Sands confessed. "I couldn't do it without Billy. At some point, he'll take a vacation, and I'll have to, but in my head, I need help. And I know he needs it back. It's a returned partnership."
Mr. Brown's big kick is the terrific one-two punch he gets for merely showing up as Mr. Robinson. "My first entrance on stage gets applause just from hearing his name. In fact, we had to put in a vamp for the audience's reaction because we're in music at that point." Then he opens his mouth, and words roll out in a soft, wind-tunnel type voice that gets greeted with an appreciative, collective gasp from the audience. "No matter how I'm feeling when I walk into that theater, when that happens, I'm there!
On opening night, his favorite review came from Mr. Robinson himself. "He told us he was crying the whole show. It brought back a lot of memories."
Not lost on Mr. Sands and Mr. Brown is the happy irony that Pippin is in the Tony running the same year they are. Since their college production—Mr. Sands as Pippin and Mr. Brown as his advisor, Leading Player—Pippin has been their show.
"This was something we'd been referring to our entire friendship, so to get a chance to do it was fantastic," Mr. Brown said. "It was quite a trip. We used a lot of the original choreography, and the staging was very similar to the way we grew up seeing the show, so we really felt like we were a part of the legacy of Pippin. We always dreamed of doing a revival. Now, look: the revival's here, and we're not in it!"
The memory was warming for Mr. Sands as well. "I learned a lot doing that show, mostly from our director, Kelly Ward." Mr. Ward had been one of the T-Birds [Putzie] in 1978 movie Grease, and directed Messrs. Sands and Brown in the stage version of Grease during college. "He told me how to enter and exit a scene. He was strict, but it seems to have worked. I still remember all the things he taught me, and I use them now."
"Kelly was great," said Mr. Brown, "teaching us how to be professional actors."
With USC diplomas in hand, Mr. Sands and Mr. Brown struck out in separate directions but eventually wound up in the same make-or-break town. "We had very different trajectories to get to New York," said Mr. Sands. "I stayed in Los Angeles and worked in film and TV. I was very lucky to get work in that field, and it took me all over the place—sometimes to New York, but not for plays—till Journey's End."
Journey's End, in 2007, marked his Broadway beginning in a big way. It got him a Theatre World Award for his debut performance and a Tony nomination as a Featured Actor. He played one of those achingly young, idealistic soldiers sacrificed to World War I.
For a snappy change of pace, he journeyed to La Jolla to play Clyde Barrow, Tommy-gun in tow, in Frank Wildhorn's Bonnie and Clyde. (Riding shotgun for him was this year's Tony-contending Cinderella, Laura Osnes.) Then he hopped the express back to NYC to take his Broadway musical bow in American Idiot. But, before strapping on that guitar, he slipped in some classics: The Seagull at the McCarter, Twelfth Night opposite Anne Hathaway in the park and The Tempest with Mandy Patinkin at CSC.
Meanwhile, Mr. Brown booked a European tour of Hair after college, playing Hud for two and a half years. "That was 2003 and 2005. When I was coming back and forth from the two, I had a few weeks' layoff and stayed with Stark at this place in Los Angeles. In 2005, when the tour ended, I moved to New York. He arrived in 2007."
Both actors remained clear-headed amid all the media-mixing that followed graduation. "When we were studying, we were both studying theater," Mr. Sands said. "We were theater majors, we had degrees, the focus was theater, so I always started out saying, 'I want to work as a stage actor. I would love to work in New York on Broadway'—but I was already in L.A., so I thought, since I already knew my way here, I'd see how Hollywood worked out. I didn't get a huge break, but I was happy working. When I finally got to New York and got Journey's End, I suddenly became an established, known quantity, largely through that one job." Recently, he was cast in a film. "When the press release came out, it listed me as 'Broadway actor.' I thought, 'Oh, my gosh! That's beautiful.'"
On a recent Sunday night off from their shows, the two Pippin veterans took in The Pippin According to Diane Paulus, with its lively, high-wire, circus-y overhaul of the original's commedia dell'arte trappings. The switch in spectacle captivated both of them. "We loved it," Mr. Sands said. "I'm such a fan of the show, anyway. From those first opening chords of 'Magic To Do,' you just go on a ride."
He had high praise for Matthew James Thomas, the acrobatic young Brit executing his old role. "I know that Broadway score, and he did it! He has some amazing vocal tricks that put his stamp on those signature songs."
And Patina Miller, as Leading Player, wowed Mr. Brown, who didn't flinch at all over the gender-bending magic that director Paulus drew from the role.  She is someone famous for thinking outside the box—it might not be beyond her reach to reverse the role to male, cast these two, and give them their diehard dream.
editorial@observer.com