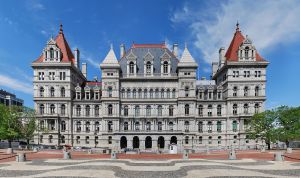 This afternoon, courts released a sentencing document for State Senator Shirley Huntley, detailing her cooperation with federal authorities in the wake of her arrest in a bribery scheme. After a slew of corruption scandals have rocked New York State politics in recent weeks, including several of Ms. Huntley's Albany colleagues, particular attention was placed on the names of officials and staffers caught in Ms. Huntley's wiretaps. There are nine names on the list.
In documents filed with the court, the U.S. Attorney's Office wrote that "eight of these nine individuals remain the subjects of ongoing criminal investigations." According to Ms. Huntley's lawyer, the U.S. Attorney's Office and the FBI recorded and photographed the following individuals on multiple occasions:
State Senator John Sampson
Melvin Lowe (former political consultant and associate of New York State Attorney General Eric Schneiderman)
State Senator Eric Adams
State Senator Ruth Hassell-Thompson
State Senator Jose Peralta
State Senator Malcolm Smith
City Councilman Ruben Wills
State Senator Velmanette Montgomery
Curtis Taylor (former staffer for Malcolm Smith)
The U.S. attorney's office refused to tell Politicker which individual is not subject to the ongoing investigation.
But Mr. Wills' campaign said he was the innocent one.
"My attorney has been in contact with federal law enforcement authorities and he has been informed that I am NOT the target of any investigation arising from proceedings involving Shirley Huntley," the councilman said in a statement. "I have personally not been contacted by any law enforcement officials to date and I look forward to continuing the work of the people of southeast Queens that elected me."
Mr. Wills' statement is echoed by one from Mr. Adams. "I have not been contacted about any investigation. I believe deeply in transparency and the pursuit of justice—and that is why I committed 20 years of my life to law enforcement," he said. "I am more than willing to help with any investigation."
A spokesman for Mr. Schneiderman declined to comment but a source in his office pointed to all of the work Mr. Lowe, one of two non-electeds named on the list, has done for other officials. Mr. Schneiderman once indicted Ms. Huntley so there may be a tense relationship that led to the attorney general being singled out. "The notion that Schneiderman had a business relationship with Lowe is ridiculous," the source said.
All of the officials on the list are Democrats. Among them are two pols campaigning for higher office–Mr. Adams and Mr. Peralta for Brooklyn and Queens borough president respectively. Politicker has reached out to the offices of Ms. Hassell-Thompson, Mr. Peralta and Ms. Montgomery and has yet to receive a formal response to the news. Mr. Smith and Mr. Sampson have already been indicted in separate cases.
"This is an extremely trying time in Albany. If any charges are brought the conference will take appropriate action," Senate Democratic Conference Spokesman Mike Murphy said in a statement. A spokesman for the Senate Republican Conference declined to  comment.
This post will be updated with additional information as it arrives.
View the sentencing letter below:
[scribd id=140213408 key=key-1b59cqftnw8gms5rdrmb mode=scroll]