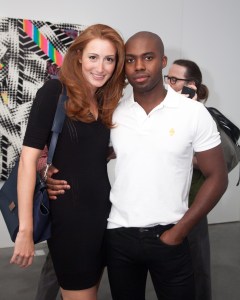 Paddle8, the online auctioneer founded in 2011 by Alexander Gilkes and Aditya Julka, has tapped Sarah Goulet to be their in-house head of worldwide communications. Ms. Goulet joins Paddle8 after three years working with the PR department of Pace Gallery, which runs four galleries in New York, as well as spaces in London and Beijing. Monday was Ms. Goulet's first day at the new gig.
"Paddle8 has been refining itself over the last few years," she told Gallerist. "Now it's exclusively an online auction house, and through that process I think they distinguished themselves in what was a very crowded field of people trying to do everything. Dealers, collectors and artists have really responded to this model. It's very artist-friendly."
Paddle8 holds two types of auctions—benefits in collaboration with nonprofits, and bi-monthly themed auctions hosted on their web site. They have expanded recently, having just opened offices in Los Angeles, and there are plans to open in London and to tap more into the European market.
As for her move from a traditional gallery to the digital realm of the art world, Ms. Goulet said, "There have been some fissures in the gallery system. I think it is still figuring out how to move into the 21st century. A place like Paddle8 seems to be getting there."