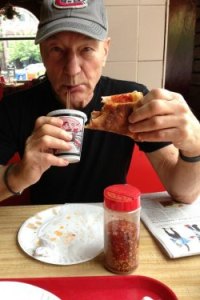 Patrick Stewart has boldly gone where every other New Yorker has already gone before.
This afternoon, the 72-year-old Park Slope resident and X-Men alum ate his first ever slice of pizza, according to his Twitter. He flawlessly implemented the famous New York fold.
Responses on Twitter range from "WTF?!" to "What's with Montreal Canadiens cap?" Could it be Shatner's influence?
Mr. Stewart's Twitter handle, by the way, is @SirPatStew – an adorable moniker that sounds like it was coined by Perez Hilton.
Suspiciously, the word "slice" is in quotations. The Observer wonders: does this mean that P-Stew has consumed plenty of whole pizzas in his time? How does one go 72 years without ordering a slice of pizza, anyway? A quick Yelp search reveals that there are 205 pizzerias in Park Slope alone.
Sadly, no answers are forthcoming.
This is either the strangest bit of celebrity buzz we've heard in a while, or a very public bid for a cameo in the next Star Trek movie.