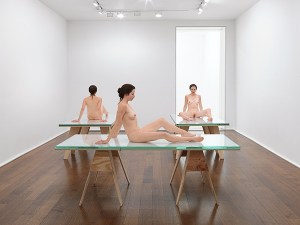 An hour before Paul McCarthy's "Life Cast" exhibition opened last week at Hauser & Wirth's Upper East Side townhouse, actress Elyse Poppers, a brunette in a blue dress, stood surrounded by three unnervingly realistic replicas of herself in the nude. Each painstakingly hand-painted silicone cast is so lifelike that, she said, "people who come from outside think that they're real before they get all the way in. Delivery guys especially are really freaked out."
It's easy to see why. The casts are perfect copies of Ms. Poppers's body, down to her peachy skin tone,  fingerprints, fine creases, tan lines and tiny moles. They sit, legs outstretched, in a bare room on clinical white boards topped with glass. Ms. Poppers, who in a pair of wedge-heeled ankle boots was barely taller than her seated sculptural counterparts, said that she enjoys watching people look at them. "It feels really liberating."
Ms. Poppers met Paul McCarthy a couple years ago when she auditioned for the role of Natalie Wood in Rebel Dabble Babble (2012), a video by Mr. McCarthy and his son Damon. The piece, which co-stars James Franco and explores the rumored, quasi-incestuous relationships between Rebel Without a Cause director Nicholas Ray and his young cast, will open at Hauser & Wirth's downtown location on June 20. (WS, another project involving Ms. Poppers, will open the day before at the Park Avenue Armory.) Mr. McCarthy is ubiquitous in New York these days, with his enormous Snow White sculptures in the downtown space, a sizable bronze at the edge of the Hudson River at West 17th Street and his monumental Balloon Dog (2013), which towered over Frieze New York. The life casts, though, are the most viscerally affecting.
"It's a new level of figurative sculpture," said Jeffrey Deitch, director of the Los Angeles Museum of Contemporary Art, in the gallery the day after the opening. He found That Girl T.G. Awake (2012-2013), the trio of seated sculptures, particularly impressive. "To take the oldest art form—figurative sculpture, nude sculpture—and do something that's so fresh … I'm just knocked out. I'm amazed at this level where reality and the reality of art, where the border is almost imperceptible."
The life casts engage not only sculpture (from the ancient Greeks to John De Andrea and Duane Hanson), but iconic 2D works like Gustave Courbet's L'Origine du monde (1866), the famous obstetrician's-eye view of a woman's anatomy, and Barbara Kruger's Untitled (Your Gaze Hits the Side of My Face) (1981). "I think part of the interest in doing this was subverting that history of the female nude and being the object," said Ms. Poppers. "And having a little more agency."
A Los Angeles native, Ms. Poppers auditioned for Rebel Dabble Babble shortly after moving back home to pursue acting, following stints working as an art appraiser and a private investigator. Standing in the gallery wearing a black mesh trucker hat, Mr. McCarthy said he was struck by her ability to connect with his perverse portrayal of Ray. After freaking out a few hopefuls with lascivious questions about their boyfriends, Mr. McCarthy said he would begin laughing maniacally. "What happened with Elyse is she immediately went into it and twisted it back and kind of laughed with me, and there was a laughing moment. Elyse understood something that the others didn't."
He decided to work with Ms. Poppers again on the "Life Cast" project partly because of her interest in cyborgs. "The reality of what it took to make these was way beyond what any of those other people would have done," he said. "They would have been gone weeks ago." Next, the artist and his muse plan to embark on robotics—a video upstairs at Hauser & Wirth records Ms. Poppers, nude, making subtle movements that they will use to inform the motions of mechanized pieces. "There's something to do with the body at this moment and the time that we live in," said Mr. McCarthy. "For me, these things have something to do with the digital and the virtual and what's happening to the body. And I can't help but make them. I will make more. They're part of what I do now."
To make the casts, Ms. Poppers was covered with goopy blue silicone and then encased in plaster, an elaborate process executed by Kazuhiro Tsuji, one of Hollywood's premier special effects artists, and his team. "The position was probably the most challenging," she said, crooking her knee to match that of the cast beside her. "The plaster becomes extremely hot and actually steams. It becomes so hot it could actually burn you if you didn't have a layer of silicone underneath."
People who see Ms. Poppers next to the casts don't always realize that they're of her. One day in the gallery, a couple of girls mistook her for an employee. When she told them she didn't work there, they asked, "Oh, are you just here styling the bush?" referring to the sculptures' pubic hair. "Actually," she told them, "that's my bush."
In the end, Mr. McCarthy decided to remove that particular anatomical detail, after grappling with some rather intimate complexities of realism. "In the video she's shaved and the crotch is shaved, and that's not naturally her," he said, "but in the moment of making the piece, that's who she was. Were we making a portrait of Elyse as she is? Or are we making a portrait of Elyse at the moment of the process? We fought with it for months."
At the opening, a man could be seen extending his smartphone between each sculpture's legs to make his own Courbet. "There's a violation," said Mr. McCarthy. "You know, she's about as real as you're going to get physically the outside of her body, but you think it's fucking okay to make 100 photographs of her?"
Ms. Poppers didn't seem to mind. "It's flattering that people want to photograph them," she said.