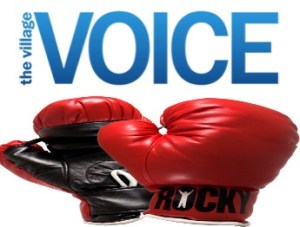 The Village Voice is going through the latest in a series of rough times–in the past two weeks, following the resignation of their top two editors, the downtown alt-weekly laid off some of their most beloved writers. Today, two more writers resigned. But the fact that it might not seem like the most stable of places to work hasn't deterred what we can only assume are young writers from sending in their applications. 
"Today, the Village Voice regretfully accepted the resignations of food critic Tejal Rao and staff writer Nick Pinto," said a statement from the Voice that we received this afternoon. "We thank Rao and Pinto for their excellent work, and wish them the best."
But the Voice isn't acting overly regretful. On Friday, The Village Voice coincidentally (or not) posted job openings for a staff writer and a food blogger.
"We'll now continue to focus on rebuilding the Voice to more closely align its superior content and editorial products with the long-term goals of Voice Media Group and the needs of our New York audience," the statement continued. "Interim editor Pete Kotz is already working to fill open positions with fresh talent. Since the job openings were posted Friday at 4pm, more than 100 applications have been received."
Just goes to show, there is no shortage of people willing to jump aboard a sinking ship. Jobs in media, after all, are hard to come by.