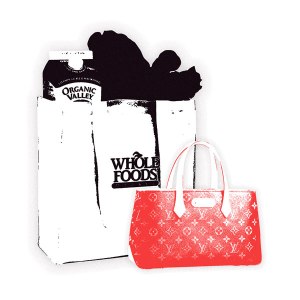 When Whole Foods co-CEO John Mackey's book, Conscious Capitalism, came out in January, Claude Arpels and Winsome Brown hosted a book party for about 150 people at their gorgeous and expansive Tribeca apartment. It was a fitting venue. While America's hard right continues to find new ways to make people hate big business and the overpaid Wall Street courtiers that serve it, the tastefully decorated digs screamed You Can Still Do Well Without Selling Your Soul to Goldman Sachs.
Let's set aside the fact that Mr. Arpels—the grandson of one of the founders of the famous French jeweler Van Cleef & Arpels—was born on third base. And that he and Ms. Brown ("an actress and writer") think that posing in front of a wood-burning stove in one's country house for the Times's Home & Garden section is a convincing way to establish one's environmentalist bona fides. They're still good people for giving Mr. Mackey a New York forum to spread his message of enlightened capitalism. This is the guy whose company is going to require labels on genetically modified food by 2018, after all.
Mr. Mackey's book is a manifesto for the good that both companies and capitalism can do, and it uses as examples forward-thinking iconoclasts such as Southwest Airlines and Patagonia. The basic argument is pretty simple: there's nothing wrong with being rich and successful, provided that you do something good for society along the way. Mr. Mackey's authority springs from the revolution in healthy eating that he has wrought with Whole Foods, which started as a single vegetarian food store in Austin in 1978 and is now the largest organic and natural food retailer in the country, with 344 stores in 37 states.
And the juggernaut keeps rolling: the company announced better-than-expected quarterly results on May 7, and the stock popped 8.8 percent as a result. Sales were up 13 percent to $3.03 billion, net income rose 21 percent to $146 million, and gross margins are holding tight around 35 percent, despite concern about the effects of the economic downturn as well as competition from a bunch of copycats such as The Fresh Market. The chain, which has been opening about 20 stores a year over the past several years, is picking up that pace, and Mr. Mackey and his colleagues think the company could triple in size—to 1,000 stores across the country—before they've completely satisfied demand for 365 Everyday Value Organic Yogurt.
One wonders: why couldn't Mr. Mackey have been a New Yorker? While he's probably too crunchy, he is a truly great businessman. Instead, we get as our grocery chain magnate mayoral hopeful John Catsimatidis of Gristedes, a man whose supermarkets people will only go into if they have to. Mr. Catsimatidis recently said he'd resisted closing some underperforming stores because he didn't want to put the employees out of a job—so even if his customers have nothing to thank him for, he can still lay claim to a conscious capitalism of another sort.
Whole Foods sets aside more than 5 percent of net profits for its community-giving initiatives, including economic partnerships with suppliers in poor countries and nutrition education programs. That's good stuff. But you don't win the game with charity. One of the secrets of Mr. Mackey's success is that he has been able to exploit the guilty conscience of America's wealthy class. Just like anyone, rich people enjoy feeling good about themselves. That can be hard when you're spending money on an $1,800 Louis Vuitton messenger bag or a $3,300 baby crib from the Netto Collection. But buying organic food? Hell yes. If you shop at Whole Foods, the thinking goes, you're not only buying a better banana, but you're also helping some farmer in Honduras in the process. Everybody wins.
At this point in his career, Mr. Mackey is in full-on reflection mode (thus the book) and he uses phrases like the "higher purpose" of a supermarket and the "self actualization" of employees who spend their days rubbing vegetables to a high sheen. But it's not that difficult to go along with him when he envisions a world in which capitalism is in harmony with the cosmic sea. The best companies set themselves apart by how they treat the people who work for them, and Whole Foods is in the corporate elite in that regard when it comes to its 74,000 "team members." It's been on Fortune's Best Companies to Work For list for 16 years running.
Compare that with Amazon, which increasingly seems on the verge of employee revolt, or Walmart, which focuses solely on delivering the cheapest price to its customers. Interestingly, the Arkansas behemoth has watched Whole Foods's success and even tried to emulate it, at least up to a point. The company recently trumpeted its goal of sourcing $1 billion of its $244 billion in annual grocery sales from small and medium-size farmers. You read that right: less than one-half of 1 percent. Baby steps, people. Some revolutions don't take place all at once.
Even if you're a critic of Whole Foods and the gentrification of supermarkets, the seven million people who shop in one every week aren't going there because they don't enjoy the experience. The stores are clean and spacious—the average Whole Foods is 38,000 square feet—and the product is high quality. Last fall, when I was instructed to bring pies to a Thanksgiving dinner, I decided that for once, I wasn't going to slave over making them from scratch in the kitchen. So I bought both pumpkin and pecan pies from the Whole Foods store in Union Square. Both were extremely well received.
Organic also translates well over email, and the messages the company sends to customers are as cleanly designed as its stores. The one that hit my inbox last Wednesday was classic Whole Foods, too, with recipe ideas including ricotta-strawberry pancakes, herb biscuits with smoked salmon and chicken burgers with Brie. These people know their customers cold. That's why they keep hitting their numbers and why the stock is trading near its all-time high, making the company worth $18.7 billion. Compare that with yesterday's grocery chains: Safeway is worth just $5.8 billion and Supervalu a mere $1.7 billion. The difference is that Whole Foods isn't just about where you buy your food; it's about who you think you are.
(I love that last recipe, too, in which you cancel out the benefits of avoiding red meat by adding the Brie. It brings to mind the whole baked potato craze in the early '90s, when otherwise sane people decided it a healthy idea to eat a baked potato for lunch, and nothing more. Except, of course, for the generous portions of sour cream, cheddar cheese and bacon that they piled on top. Ah, cognitive dissonance. It's like ordering a Big Mac, large fries and … a Diet Coke.)
Mr. Mackey hasn't achieved total retail nirvana as yet. In January, he compared Obamacare to "fascism," somehow forgetting that a good portion of his customers are well-to-do liberals. I'm also curious to see how the store Whole Foods is planning to open in Williamsburg does—on Bedford, between North Third and North Fourth. It's taken a whole lot longer than people expected, but part of me is starting to think that was the plan from the get-go.
As recently as five years ago, Bedford really was hipster central, and the idea of opening a Whole Foods on that block would have been akin to opening a head shop selling one-hitters and bongs on 59th and Madison. Today? Gentrification proceeds apace, the hipsters have been pushed deeper into Brooklyn, and Bedford is like Bleecker Street—the tourists might still see hipsters, but those are $3,500-a-month one-bedrooms down the block. You know, the kind that are rented by people who shop at Whole Foods.
editorial@observer.com