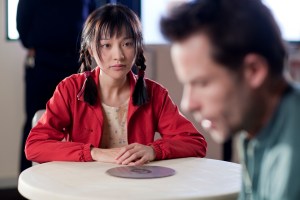 The dependable Australian actor Guy Pearce is always welcome, even in a well-meaning dud like 33 Postcards. Versatile and unpredictable, he's played to perfection everything from a flamboyant drag queen in Priscilla, Queen of the Desert to a tough Los Angeles homicide detective in L.A. Confidential. In the Chinese-Australian co-production 33 Postcards, he turns up as Dean Randall, a man who has sponsored an orphan named Mei Mei for 10 years, financing her education and feeding her fantasies of a life in music through a series of postcards that she keeps like valentines from a surrogate father whose kindness and generosity have given her a better life. The two have never met, but everything is about to change. Now a pretty and intelligent young lady of 16 and a talented singer in the Dong Ying Children's Choir, Mei Mei (played by the charismatic young actress Zhu Lin) is invited to attend the Australian Choir Festival with her orphanage. At last she can thank her sponsor and his "perfect family." The saga that unfolds next you couldn't fit on a postcard.
With no money, only a perfunctory knowledge of English and the return address on one of his postcards, Mei Mei disobeys her school chaperone and looks up Mr. Randall in Sydney. Instead of an idyllic home, she finds a battered dwelling in a slum where his hostile and suspicious brother lives, and a friendly boy on a motorbike named Carl (Lincoln Lewis) takes her to find the man she's looking for. Instead of the great white father of her dreams, her sponsor turns out to be an imprisoned convict. The wife and children she imagined to be her "family" were completely fictional. Worse still, the orphanage heads for the choir festival in Canberra without her. Stranded in Sydney, Mei Mei is befriended by Carl, who gets her a job washing cars in a garage that is a hotbed of criminal activity and the headquarters for a ring of car thieves run by Carl's father and Dean's brother. From his prison cell, Dean tries to arrange for a foster home to take care of Mei Mei and rescue her from the garage crooks.  But to get an early parole to face his new domestic responsibilities, he will have to testify against a brutal fellow endangering his life. Although their disparate lives have been connected only by mail, the ties between the Australian man and the Chinese girl grow stronger by the day. And the movie gets more preposterous by the minute.
It gets complicated, with too many characters and not enough credibility. The script by Martin Edmond and the direction by Pauline Chan bounce all over the place. The plight of the immigrant teenager who gets innocently involved in the stolen-car racket gets sidetracked by the violent stabbing that awaits the unlucky prisoner she adores—and oh, the agony of it all. Guy Pearce soldiers through the clichés with his usual easy control, but it's an uphill climb. 33 Postcards explores themes of redemption and belonging to show how the pain of loneliness is universal, no matter what language you speak. But what it adds up to is good intentions at hard labor. Just when you think it can't get any more sentimental or tack on any more plot detours, the film attempts a clumsy cultural détente as the Chinese children's choir sings "Waltzing Matilda." The prisoner, his lady parole officer and the boy on the motorcycle are all in the audience, grinning like Disney cows. But clearly, the only solution to their problems is more postcards.
rreed@observer.com

33 POSTCARDS
WRITTEN BY Pauline Chan, Philip Dalkin and Martin Edmond
DIRECTED BY Pauline Chan
STARRING Guy Pearce, Zhu Lin and Claudia Karvan
RUNNING TIME: 97 mins.
RATING: 2/4 Stars