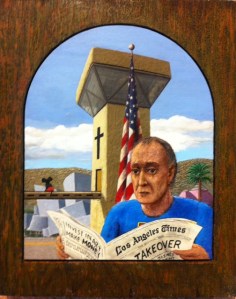 François Pinault may be down a Boy with Frog, but the French billionaire is still giving the Biennale a run for its money.
Ever since he opened his Palazzo Grassi private museum in 2007, on the eve of that year's Venice Biennale, Mr. Pinault and his curator (first Alison Gingeras, and, for the past few years, Carolyn Bourgeois) have been staging first-class exhibitions that, unlike most of the Biennale's collateral events, earn comparisons to the main event. To quickly review the history here, Mr. Pinault originally wanted to open his museum in a suburb of Paris, but was thwarted by various bureaucratic forces, and settled on Venice instead. During the 2009 Biennale, he opened a second, even grander space: the Punta della Dogana, Venice's former customs house, after extensive renovations by Japanese stararchitect Tadao Ando. That's where the Boy with Frog comes in, or rather, out: when that building opened, Mr. Pinault had an eight-foot-tall, white-painted stainless steel Charles Ray sculpture of a naked boy holding a frog placed outside, where the triangular building comes to a point, jutting out into the water of the lagoon. Earlier this year, Venetian authorities insisted on removing it and replacing it with a reproduction of a 19th-century lamppost. More on that in a bit.
The Palazzo Grassi opened a sprawling solo exhibition of Rudolf Stingel back in April, and it's still on view, but the Punta della Dogana opened an exhibition this week—the press view took place on the first day select press were allowed into the Biennale—that brings some additional wattage to Mr. Pinault's curatorial team. For the exhibition, "Prima Materia," which runs through Dec. 31, 2014, Ms. Bourgeois was joined by Michael Govan, who has been director of the Los Angeles County Museum of Art since 2006, and was previously director of the Dia Art Foundation.
"Prima Materia" is an eye-popping affair, ranging from anxiety-inducing conceptualism to serene minimalism, with a few all-around show-stoppers in the mix. And if Massimiliano Gioni's Venice Biennale, with its outsider artists, is somewhat low on market favorites, the Pinault exhibition more than makes up for it.
A visitor enters to the grating tones of a Bruce Nauman video, positioned just inside the door, of a court jester jumping up and down and repeating the word "No!" in the manner of a child having a tantrum. In the lobby, a sound piece by Dominique Gonzalez-Foerster—gentle rain—counteracts the Nauman like a Xanax. And a good thing, too, because then it's on to the main exhibition space, the vast first room of which is filled with a sprawling installation by Ryan Trecartin and Lizzie Fitch, a typical Fitch/Trecartin effort, with a video on a huge screen (headphones optional) in which the usual antic cast of PDA-wielding youths shout things like "A river runs through her…you know, bitch?" and "I am not a woman you stupid beta—" and "I freelance out of this placement." The space is a jumble of heat lamps, sand, picnic tables, hammocks, a suitcase hung with noose-like thick rope from a trellis, wicker chairs, suitcase-laden wheelbarrows, planters, cracked mirrors, lengths of chain link, hybrid chairs made from wood chairs mounted on wheeled office chair bases, generic IKEA-type cabinetry.
Up a set of stairs is a sequence of more modestly sized galleries, each of them devoted to a suite of works by a single artist. First up is a somewhat unremarkable set of washy paintings by Marlene Dumas, though, to be fair to the artist, it's tough to look at anything while under the brain-searing influence of Trecartin/Fitch. Next up after Dumas is a 2012 series, somewhere between abstract and floral, by Los Angeles artist Mark Grotjahn, called "Turkish Forest." This isn't his flashiest work—the palette, dominated by blues and greens, is murkier than usual. (An interesting aside in this particular context: most of the work in the Pinault exhibitions has either been purchased by Mr. Pinault or, as in the case of a set of paintings by Chinese artist Zheng Fangzhi here, commissioned by him. The Grotjahns are an exception, having been borrowed by the artist himself, who intends to hold onto this group of paintings.)
Keeping things in an L.A. state of mind, the next gallery is devoted to works by Llyn Foulkes, who has been making art since the 1960s but has only recently gotten his due, having been one of stars of last year's Documenta. For New Yorkers, the Foulkes gallery chez Pinault, which is one of the best in the place, to this writer's mind, serves as a preview for the artist's big New Museum show, opening in June. What's here? There are a few paintings of people's heads, some obscured by a cloud of red paint. There's a Mickey Mouse that's just been shot by a gun—a familiar Foulkes motif. There's a 1963 painting of a pig with butcher's markings, inscribed at the bottom "This painting is dedicated to the American." Best of all, there are a couple of self-portraits, one of which shows the artist, wearing a grim expression and holding a copy of the Los Angeles Times that carries the headline "Invest in Art Make Money." There may be an American flag behind him in the painting (and it may remind you that the artist whose work you just looked at, Mark Grotjahn, made a whopping new auction record of $6.5 million in New York earlier this month, at Leonardo DiCaprio's charity sale at Christie's), but it's nevertheless a sardonic message in Venice, where art commerce simmers just under the surface of things, and the art world is gearing up for the annual Art Basel fair, which opens in Switzerland in two weeks.
Further along are other worthy artworks, such as some terrific "paintings" by Chicago artist Theaster Gates—Brice Marden-type abstractions done with roofing material—and a well-known David Hammons video of the artist kicking a can around downtown New York, here projected cleverly on a brick wall that gives it a sepia tone. But the most impressive gallery at the Punta della Dogana comes up a bit later in the visit, when one once again descends the stairs to the first floor. A long, high-ceiling gallery is devoted to a mixture of Arte Povera artists and Japanese minimalists from the movement called Mono-ha. (One wonders if Mr. Govan was reminded of the Mono-ha artists by an eye-opening exhibition at the L.A. gallery Blum & Poe  last year.) Standouts in this gallery are a set of black, reflecting pool-like sculptures from 1969 (remade in 2005 and 2012) by Nobuo Sekine called Phase of Nothingness-Water (rather appropriate for Venice) and a group of tree trunks by Giuseppe Penone (originally made in 1968 and remade in 1985), which lend to the space the feel of an outdoor setting.
Touring the exhibition on Monday, The Observer chatted with Ms. Bourgeois. Was it tough working with another curator on the show? "When we met," she said, "we agreed we had no ego." In fact, there was a perk for the Frenchwoman—she got to spend some time in Los Angeles. "I love Los Angeles," she said, lighting up.
As for that lamp that is replacing the much-loved Boy with Frog, it had just been installed—right outside a gallery containing a spectacular gold-colored installation by James Lee Byars—and it is very big. In early May, when The New York Times reported on the Ray sculpture's removal, the paper quoted Italian-born curator Francesco Bonami commenting, "If they put the lamppost back, it would be a symbol of cultural darkness." Ms. Bourgeois, clearly displeased, was judicious in her description. "We didn't know—" she paused. "How big it would be."