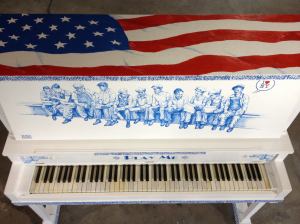 They really struck a chord!
The Sing For Hope program, which refurbishes old pianos and places them around the city for all to play, is putting 88 new pianos around the city this weekend. Why 88? Because it corresponds to the number of keys on a piano.
The pianos will be placed all around the five boroughs, from Central Park to Prospect Park. The pianos will only be around for a short time: June 1 through June 16.
Stefan Sierhej, the designer of the piano at Brooklyn Bridge Park, wanted to make his piano look like a piece of China, but he also wanted it to showcase New York City. He opted to re-imagine the iconic photo of of construction workers eating lunch on a ledge in white and blue.
Sing For Hope enlisted over 1,000 volunteer artists and local community members to design the pianos. Once on the streets, community organizers serve as "piano buddies," supervising the pianos against misuse and making sure they are protected from the fickle New York summer weather.
The intention of the project is to unite the city together under a shared love for music and art. From impromptu concerts to simple piano lessons, it encourages all to share their talents. Sing for Hope co-founder Camille Zamora told the Daily News that the success of the program is attributed to the people "who literally never touched a piano before and sit down and start plinking out a song and find they have a voice."
[youtube http://www.youtube.com/watch?v=GmJsq2oX_vI]