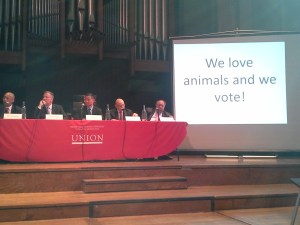 The candidates for mayor of New York City made their pitch to animal lovers yesterday, and needless to say, they repeatedly professed their love for various species that don't have a vote.
Republican John Catsimatidis–who likes to call himself "the cat man"–once begged the fire department to rescue his daughter's cockatiel, for example. Bill Thompson claimed that he had not one, but two rescued cats. And Sal Albanese insisted his mother-in-law lived a few years longer because of a chihuahua named Joey.
But, beyond highlighting animal rights issues, the Manhattan forum also served as yet another arena for rivals of the absent front-runner, Council Speaker Christine Quinn, to attack her and attempt to whittle away at her lead in the polls.
"Yes, the third term was wrong and undemocratic and we have the third term because of Christine Quinn. I don't think she's listening on this issue," Public Advocate Bill de Blasio said at one point, again blasting Ms. Quinn for extending term limits in 2008. "I think people have tried to say there are real alternatives available and she simply is not willing to entertain them."
The forum, which was hosted by the animal rights and anti-Quinn group New Yorkers for Clean, Livable and Safe Streets (NYCLASS) and moderated by former Republican mayoral candidate Tom Allon, also pitted candidates against each other and one candidate against the frenzied, animal-adoring audience. Notably, despite describing the elaborate rescue of his daughter's cockatiel and his wife's failed attempt to give their dying cat mouth-to-mouth resuscitation, Mr. Catsimatidis clashed with the crowd when he reiterated his support of horse-drawn carriages in Central Park. Animal rights advocates argue the horses face harsh conditions in the city and want them replaced with antique cars.
"I believe the horses provide a king of ambiance–" Mr. Catsimatidis began before he was interrupted by boos. "Let me finish, please," he begged as the booing and hissing died down.
"And the city should provide farm space in Central Park to keep all the horses together and make sure they're safe, they're not on the streets, make sure they're given proper care and make sure they're not too old to work … If those horses are ready to retire, you know what I would do? Build a small stable and have them as part of the zoo–" he continued, causing the crowd to again roar with disapproval, drowning out the candidates.
The Gracie Mansion hopefuls also found time to bash one another. When Mr. Allon asked the candidates why they thought Ms. Quinn backed horse-drawn carriages in Central Park, Mr. Liu took aim at Mr. de Blasio.
"I do want to just ask my friend Bill here a quick question, that bill that I conceded to voting for, how did you vote on that?" Mr. Liu asked, referring to a legislation that strengthened regulations of horse-drawn carriages but did not outright ban them. The bill, which they each supported, was first introduced when both men served in the City Council.
"John, the notion of having better conditions does not conflict with the notion that some of us came to–the conclusion that the whole thing was bankrupt and had to be ended," Mr. de Blasio shot back, receiving enthusiastic applause.
"So you voted no on that bill?" Mr. Liu asked.
"John, I admire your debate technique," came the reply. "But I've been fighting to end horse carriages the last two years and I haven't seen you out there with us, so that's the bottom line here."
While Mr. de Blasio was repeatedly cheered, Ms. Quinn remained in the proverbial doghouse. Before the forum began, a lead NYCLASS organizer asked the crowd to dial Ms. Quinn's office to demand that she support legislation banning horse-drawn carriages in the city. Audience members dutifully whipped out their cell phones when the number was flashed onstage.
"Alright, I guess we jammed the phone line," the organizer, Allie Feldman said as she smiled.