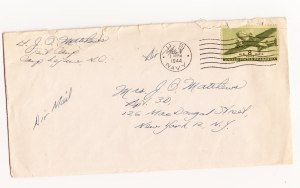 Talk about the lost and found.
A Greenwich Village woman was surprised earlier this year when she opened her mailbox to find a hand-written letter from 1944.
"I hardly ever get real letters– maybe once in awhile from my mom or family, so as I was spreading out the pile, I wasn't expecting much more than LL Bean catalogues and VALU coupon-packs," Abbi Jacobson said. The letter was sent from Lt. Joseph O. Matthews to his wife on December 2nd, 1944 from Camp Lejeune in North Carolina.
"The coloring of the letter was so dated and the cursive writing is something you don't see a lot of these days," Ms. Jacobson said. "I could see the letter was opened already, so I went for it.  I felt like I had won the lottery–who gets sent 69-year-old letters that may have been lost in the mail!?"
Ms. Jacobson scoured city records, online databases and made phone calls, but her search for Mrs. Joseph O Matthews has come up short. She enlisted the help of documentary filmmaker Todd Bieber to make a video about the search and set up a website to enlist the internet to point her in the right direction.
Update: The son of Joseph O. Matthews responded to the Lost Letter Project via Twitter and will soon get the letter back, Ms. Jacobson told The Observer. 
[youtube http://www.youtube.com/watch?v=CwI3uvwxAJg]