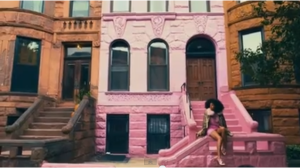 Beyonce's little sister has accidentally immortalized a former Brooklyn landmark.
The "Losing you" singer released a mini-video yesterday that shows her hanging out on the steps of the infamous pink house of Park Slope. The hot pink Pepto-Bismol building, a local landmark at 233 Garfield Place, was stripped of its hallmark color late last year when it was sold for $2.075 million to a couple who did not care for the shocking hue. The move was applauded by neighbors who were tired of the buzz around the home.
The bright addition to the neighborhood was apparently due to a mix-up while decorating: "They sent me the wrong paint," the previous owner, retired tailor Bernie Henry, told the Daily News in 2009.
The 96-year-old had started painting the property in 1961, but it had only become the shade that made it famous in the past few years. He admitted that it had scuppered preceding plans to sell the place, with buyers backing out over fears that they would either have to stick with the color or risk being vilified for changing it.
Luckily for fans of the property, Solange included the four-story house in an advertising clip in conjunction with Absolut Vodka. The indie-darling spends most of the vide0 just walking around, being cool and looking at photos of herself coupled with arty shots of people's shoes.
The short, part of a promotion for her single "Locked in the Closet" (apparently nothing to do with R. Kelly), has been embraced by those missing the real-life Barbie Dreamhouse, including Ruthanne Pigott, the realtor who handled the sale:
"I am aware of the video and as a life long Park Sloper I think it's cool. I passed that pink house too many times to count from childhood to adulthood. I remember when the house right next door was green."
[youtube http://www.youtube.com/watch?v=BiVBFzNDAog]