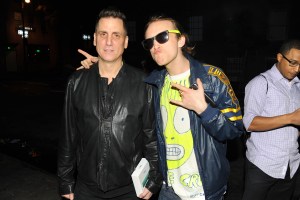 Liam McMullan
was standing outside of the West Village Bistro Highlands on Thursday night, wearing what appeared to be a homemade Bart Simpson t-shirt. As the new brand ambassador for
Ploom "Pax,"
which proudly boasts itself as being the "premium loose leaf vaporizer," the son of famed New York photographer Patrick McMullan was doing his best to earn his
Purple Prince
title. When the Transom asked the young party scion how he had become involved with promoting the San Francisco-based company, he told us:
"I went to Wonderland and met Alice, and we went to a tea party with the Mad Hatter!"
Okay?

"This stuff is great, and you know, you can smoke other things besides tobacco inside of it," the 28-year-old told us, winking at us and grinning like the Cheshire Cat. We were dubious of the validity (and health factor) of these claims, especially since Ploom, created by two Stanford grad students, worked like most vaporizers in the sense that it didn't involve smoking anything: rather the device heated up and released a water vapor that, when blown out, resembled the trail of cigarette smoke.
Before venturing inside the non-smoke-filled room, we eyed The Village Voice's Michael Musto loitering out on the sidewalk. Was watching all these kids light up making him nostalgic for the smoky bars of the pre-Giuliani era?
"No, but I miss the smell," the columnist told us. "I miss waking up and not having that cigarette scent on all my clothes that let me know I was in a bar last night. Eau de Cancer."
Inside, Kanye West producer Mike Dean stood with his model girlfriend, Louise Donegan, both of them thoughtfully puffing away on their respective Ploom's. We asked if the two if they'd consider switching their favorite brands of cigarettes over for the e-version.
"You're kind of catching me on a hiatus," Ms. Donegan, an on-and-off Parliament smoker who had quit once before relapsing and was trying to quit again, told Transom. "These are interesting."
"I feel like these are okay," said Mr. Dean dubiously, a Marlboro man himself. As if by magic, a track from Watch the Throne came on.
"This album is really special to us, because I met Mike at the release party for it," Ms. Donegan told us. Would she ever walk down the aisle to it?
"That's not a bad idea," she laughed.
To get a real review of how Ploom stacked up against the competition, we had to find someone who was already familiar with the Vaping scene.
"I'm a huge fan of e cigarettes," said DJ Cory Kennedy, who claimed that she had gotten her friends and yes, even her mother hooked on vaporizers. (Her preferred brand is Blu.) "So when Ploom contacted me about tonight, I was like 'How did they know?'"
But Ploom wasn't exactly like an e-cigarette…at least not like the kind we were used to. Ploom's mini-vape model contained little disposable "pods" (which several attendees described as like those "Nescafe espresso cups") that had to be rotated out consistently, and the device itself seemed to run out of battery power over the course of an evening. (It needed to be refilled with butane, we found out later.) And it didn't really taste like a cigarette either.
"It's kind of got a tea aftertaste," the DJ told us, before spitting something out in her hand. "I just got a chunk of some tea leaves or something sucked out," she gasped. "Is that normal?"