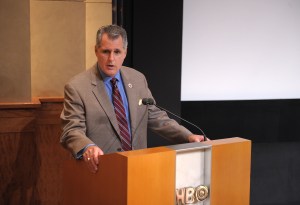 Queens Councilman James Gennaro is not rolling out the welcome mat for Anthony Weiner's mayoral bid.
Indeed, Mr. Gennaro released a lengthy, 824-word statement slamming Mr. Weiner. In paragraph after paragraph, Mr. Gennaro brought up Mr. Weiner's infamous Twitter scandal that led to his downfall two years ago, arguing the former congressman's poor handling of the affair disqualified him from being anything but a distraction.
"I believe I have a common sense, practical perspective on what I consider to be the minimum qualifications to be the mayor of our city," Mr. Gennaro wrote. "And, I believe that Mr. Weiner possesses none of these qualifications."
It should be noted that Mr. Gennaro is an ally of one of Mr. Weiner's new opponents in the Democratic primary, Council Speaker Christine Quinn. A spokeswoman for Mr. Weiner did not immediately respond to the attack.
View Mr. Gennaro's entire statement below:
I've been privileged to serve in various capacities in city government, and have served this city for more than 30 years. For most of that time, I have worked with mayors and with the top leadership in city government on both sides of City Hall and with leaders in the business, not-for-profit and labor sectors to make my modest contribution to the governance of our great city.

As a three-term Council Member, I have authored and passed more than 30 bills, and I have also taught several different courses about New York City government at Queens College.

And although I certainly don't presume to possess the leadership skills to be the mayor, I do believe that as a student of city government, as a teacher of city government, and — most important — as a leader in city government, I believe I have a common sense, practical perspective on what I consider to be the minimum qualifications to be the mayor of our city.

And, I believe that Mr. Weiner possesses none of these qualifications. Worse, I believe Mr. Weiner's candidacy will be nothing more than a most unfortunate distraction in this important mayoral campaign — you may recall that President Obama used this very word, "distraction," when the president urged him to resign his seat in the House of Representatives and indicated that his continued presence in Congress was, essentially, an impediment to the governance of the country.

But let me get back to the mayoral "minimum qualifications" that I believe Mr. Weiner does not possess.

First, I believe for any mayor to be effective he or she must possess good judgment. In my opinion, his actions in 2011 show terribly poor judgment — to say the least.

Second, in my opinion, it is critical for a mayor to be able to manage a crisis. Mr. Weiner's management of every aspect of the crisis of his own making in 2011 was, I believe, abysmal – from the first barefaced lie about being "hacked," to his statement that he was the victim of an "illness," to the conclusion of the crisis when he couldn't even orchestrate his own resignation press conference and was heckled and jeered out of the room. In my opinion, his lies and victim mentality in this episode and his overall lack of crisis management skills more than disqualify him for the mayoralty.

I believe his entry in the race would be a terrible distraction from the important issues that should be discussed in this campaign and from candidates who actually are qualified to be mayor.

Worse, I don't believe Mr. Weiner is even entering the race with the intention of winning and serving. Rather, instead of service to the city being his objective, I believe his entry into the race would, by his own admission in recent interviews I have read, be about him; his redemption; him being able to put the sexting scandal behind him.

And that is not what this mayoral campaign is for — it is not, and should not be, in my opinion, a taxpayer-financed vehicle for Mr. Weiner's personal redemption. This campaign is about the people and future of the greatest city in the world, and an opportunity for the people to come to know and select who will lead them into the future. It is not a vehicle for him to redeem himself, and to distract the voters from the other candidates — all of whom have served in city government with distinction or have made a positive difference in New York City.

Of course, it is his right to run, a right I would be the first to defend. And he has the right to take $1.5 million in public matching funds for his campaign. And he's entitled to run and base his campaign on whatever rationale he wants, even if that rationale is nothing more than the latest manifestation of the same self-absorbed, self-indulgent behavior that got him into trouble in the first place.

So, yes, he has the absolute right to run, to be a distraction to the voters, and turn this mayoral campaign into his own little sideshow, to the delight of the monologue-writers for all of the late night talk-shows. I am making this statement today to urge him to abandon this campaign, and to urge others to try to convince him to abandon this campaign.

I will close by invoking once again President Obama's sentiments from 2011 — that Mr. Weiner had become a distraction to such an extent that his presence in Congress was an impediment to the governance of the country. Nothing has changed since 2011, other than Mr. Weiner's recent indication that if the media were to look, they would likely find more women whom had received inappropriate communications and images from him. More distractions. Therefore, I believe Mr. Weiner's distracting presence in this mayoral campaign would not only impede but actually harm the process of electing our next mayor. In my opinion, the people deserve better.