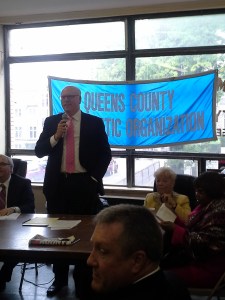 When the Queens Democratic Party rolled out its endorsements this morning in Forest Hills, one notable demographic, African Americans, was left without a major candidate. Indeed, Queens' black political establishment looked on with disappointment as their favored candidates for mayor, borough president and public advocate were passed over for rivals.
Congressman Joe Crowley, the party chair, endorsed Council Speaker Christine Quinn for mayor and former Councilwoman Melinda Katz for borough president. While a vast majority of district leaders voiced their approval, Elmer Blackburne and several other black district leaders dissented, indicating that instead they would support Bill Thompson, the former comptroller, who is also black. Ms. Quinn and Ms. Katz are white.
"Our community tells us that they're gonna vote for him [Thompson] again," Mr. Blackburne, a district leader from a predominately black southeast Queens, told reporters after the endorsement meeting. "We feel strongly and we'll be working very strongly with Mr. Thompson. [Ms. Quinn] can't win in our district. She can't win the Bronx, from the numbers I'm getting. She can't win in her own district, I'm told–her own part of Manhattan–and she can't win in Brooklyn."
Mr. Blackburne said he understood the county organization had an appreciation for diversity but also made decisions that were not always popular with the local black political establishment. Archie Spigner, a former southeast Queens councilman and close ally of sitting Councilman Leroy Comrie, the black candidate Mr. Crowley was considering endorsing instead of Ms. Katz for borough president, expressed disappointment at the seemingly last-minute decision the county organization made to not support Mr. Comrie.
"I'm disappointed but I understand their logic," Mr. Spigner told Politicker. "We'll have to see whether Leroy continues in the race. If he continues in the race, I'll be with him. The reasons they gave me were that he was a very unsuccessful, unspectacular fund-raiser."
Sources indicated that Mr. Spigner and other Comrie allies were only informed of Mr. Crowley's decision to support Ms. Katz late Saturday and Sunday. Initially, Politicker reported that the county organization was expected to back Mr. Comrie, despite his poor fund-raising. However, according to several plugged-in Democratic sources, Mr. Comrie's candidacy was met coolly in the pivotal organized labor community, some of whom favored Ms. Katz. When other candidates, sources said, made it clear they were not going to step aside if Mr. Crowley backed Mr. Comrie, the county organization reevaluated their plans and chose Ms. Katz, a strong fund-raiser and former county-backed candidate for Congress.
Mr. Comrie currently has about $40,000 in his campaign account, compared with Ms. Katz's $337,000. Ms. Katz also secured the endorsement of a southeast Queens power broker, Rev. Floyd Flake.
In addition to Ms. Quinn and Ms. Katz, the county organization chose to back Reshma Saujani, a well-funded candidate who has never held elected office before, for public advocate. Mr. Crowley repeatedly stressed that Ms. Saujani is of South Asian descent and would be able to provide representation to Queens' burgeoning South Asian community. Ms. Saujani's victory would be historic as there are no South Asian elected officials in New York City.
However, Ms. Saujani's endorsement came at the expense of Brooklyn Councilwoman Tish James, a black elected official also favored by the southeast Queens establishment. Ms. James, like Mr. Comrie, has struggled to fund-raise.
"They didn't go with Tish, they didn't go with Leroy, they didn't go with Billy [Thompson]," lamented one Queens Democratic insider. "Billy would've made a lot of people happy. They did it purely because they have close ties to Quinn."
Indeed, Mr. Crowley's predecessor, Congressman Thomas Manton, worked diligently behind the scenes in 2005 to help elect Ms. Quinn speaker. In a short speech, Ms. Quinn paid tribute to Mr. Crowley and Mr. Manton, who died in 2006.
"I can't help but think of Tom Manton and I can't help but think of a conversation and a similar endorsement, a little different meeting, that I had with Tom Manton, where he said he was supporting me in the race for speaker of the City Council," Ms.  Quinn said. "And in doing so it was an enormous step forward in my efforts to become speaker."