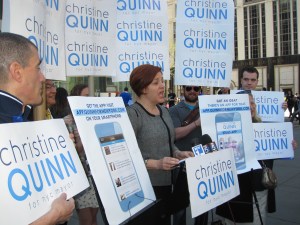 City Council Speaker Christine Quinn laughed off suggestions Thursday that she had purposely scheduled a press conference to rain on an opponent's endorsement parade–the second time she's been accused of using the tactic in recent months.
"We should be so well-organized to figure everything out on that level!" said Ms. Quinn, bursting into awkward, raucous laughter when Politicker asked about the timing of her Thursday press conference unveiling a new mobile app for her campaign.
(Her cackle is a particularly well-known response mechanism in city politics.)
Ms. Quinn's campaign sent out a scheduling announcement for the event hours after former Comptroller Bill Thompson's campaign announced "a major endorsement of his plans to rebuild New York City's working class" at the same time outside of City Hall.
"Cynicism–apparently, there's an app for that," one political insider remarked on the timing.
But Ms. Quinn said the timing had nothing to do with Mr. Thompson, and that the event was simply fit in between a morning briefing on Mayor Michael Bloomberg's final executive budget speech and a City Council smoking hearing.
"It's just a time that worked," she said.
Ms. Quinn was previously accused of stepping on an opponent's toes when she made a surprise announcement that the council would pass a bill reducing street vendor fines just as Public Advocate Bill de Blasio, her most vocal critic, was about to unveil a report on small business fines on the steps of City Hall.
"How convenient!" Mr. de Blasio told reporters sarcastically at the time, marveling at what he called "a stunning coincidence." Ms. Quinn's council office insisted at the time it was.
For his part, Mr. Thompson tried to keep the focus on his own news: endorsements from Bronx Congressman José Serrano and his son, State Senator José Serrano.
"You're going to have to ask other people about their campaigns," he told Politicker when he took questions afterwards. "I just know that today, this is a great day for my campaign. This is a great day being able to stand with two very distinctive New Yorkers as we look to move New York City forward. We're not looking to divide. We're not responding to others."
Ms. Quinn, the early front-runner in the race, also brushed off suggestions Thursday that she has been scaling back her attendance at mayoral forums to avoid increasingly pointed attacks from her rivals.
"The only reason we weren't able to attend last night or tonight was just because of other commitments, scheduling conflicts," she said, noting that she'd attended somewhere between 30 and 40 forums already and was committed to attending about a dozen more over the coming weeks.
"It's been this way for a lot of candidates," she said, adding that several of her opponents had missed events, too. "Just, unfortunately, sometimes the schedule precludes you to being everywhere and at every event."
Additional reporting by Colin Campbell.