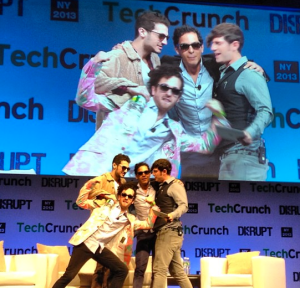 The bros from Rap Genius opened up the final day of TechCrunch Disrupt NY with a very special announcement. They're launching soon a new vertical called News Genius, which follows the paradigm of Rap Genius. However, instead of analyzing 2 Chainz lyrics, the site will explain news-related clippings and documents. That sort of sounds like journalism!
"I want Barack Obama to explain the news, the constitution and Jay-Z's '99 Problems,'" semi-joked cofounder Mahbog Moghadam, adding that "there has to be a legal explanation behind that." The site, which was the idea of investor/"godfather" Ben Horowitz, has already softly launched judging by its Twitter account.
As for Mr. Horowitz, the guys only had (and not surprisingly) praise for him: "We consider him a bro, not some Uncle Moneybags," confessed cofounder Tom Lehman.
The LMFAO music video extras also hinted at future plans for their freshly funded company. Although offering few details, they plan to entice more rappers to enter its Verified Artists program. Pop rapper Mac Miller is already a fan–they revealed that he stopped by the RG's HQ last night, but sadly they couldn't chill with him for too long because they had Disrupt in the morning.
"The biggest pleasure of Rap Genius is when you have a verified account and you're explaining your own shit," summed up Mr. Moghadam
The guys also announced there's going to be a freshman freshman literature class conducted in association with Rap Genius at Columbia University. They're already annotating some classics like War and Peace, The Iliad and The Odyssey. "I consider Rap Genius to be a tuition-free university," said Mr. Moghadam.
The panel wrapped-up with a quote that doesn't need any explanation: "If you wanna ball major, you've gotta fucking drink the Kool-Aid," said Mr. Moghadam.
Talk about baller status.