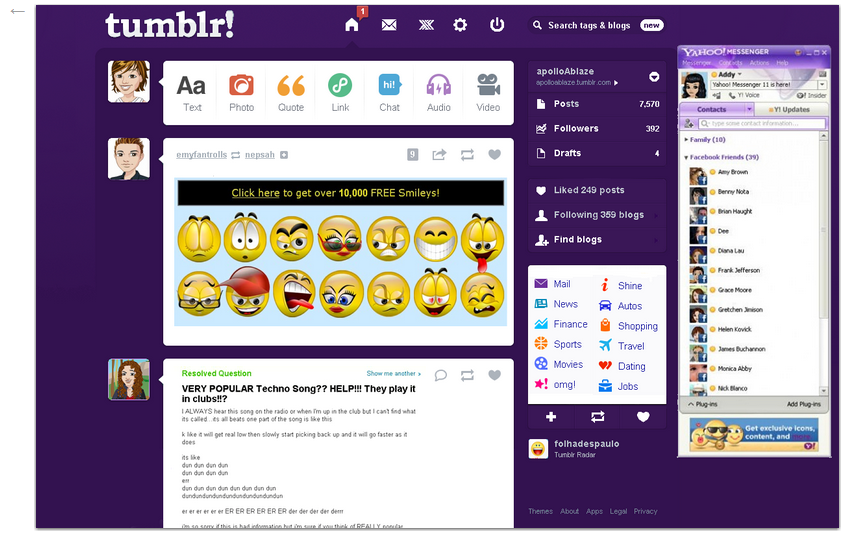 Order us up a dish of crow, because we might get a few more angels out of this Tumblr deal than we initially suspected. Crain's has analysis of the deal from PrivCo, and if these numbers are right, the company's investors, at least, made out none too shabby.
According to PrivCo's analysis, Union Square Ventures will get $253 million–"mostly from a $400,000 seed investment it made in Tumblr in 2007." PrivCo believes USV invested less than $5 million and ballparks the firm's return at 5,000 percent. Early birds, worms, etc. Spark Capital will get $154 million, and partner Bijan Sabet takes home $77 million. Sequoia gets $176 million.
PrivCo says employees fared well, too: The report says the first 10 average around $6.2 million, the first 30 $3.3 million, and everyone else gets something like $371,000.
But before you start petitioning your Tumblr pals for personal loans–it's worth treating these numbers with substantial skepticism.
A Tumblr spokesperson told us they weren't going to comment or confirm anything besides what was in the initial release, and USV and Sequoia are keeping quiet. But a Spark Capital spokesperson "disputed the accuracy of the report" to Crain's. Also, PrivCo recently bungled a story about LivingSocial, and there were lots of questions about that Foursquare report, too.
As for employees, there are any number of factors that could render those numbers inaccurate, from vesting schedules to earn outs to handcuffs. The presentation also suggests employees get comparable amounts of stock options, which seems unlikely. Update, 8:07 p.m.: Investor Bijan Sabet, whom PrivCo has making $77 million, is also on a Twitter tear trashing the report. "That article and the corresponding privco report is complete garbage and incorrect," he just tweeted. Come on, Bijan, throw us a couple more numbers.
Fred Wilson, meanwhile, has chimed in on Hacker News:
Total garbage. There is not one fact in this privco thing that is close to right. The numbers are good but nowhere close to that good. This is the same firm that predicted Foursquare would be out of business this year which will also prove to be nonsense.
Anyway, keep a close eye on the city's artisanal coffee suppliers and twee Brooklyn furniture makers. If everything at the Flea gets bought up halfway through the day on Saturday, we'll have our answer.
Update: PrivCo says they've talked with a Tumblr VC and they've updated their numbers accordingly. The new numbers look more like what Dan Primack already reported:
Would've loved to be a fly on the wall for that little chat, all things considered.